Department of Pharmacy Practice
About the Department

Faculty Details

Consultancy Details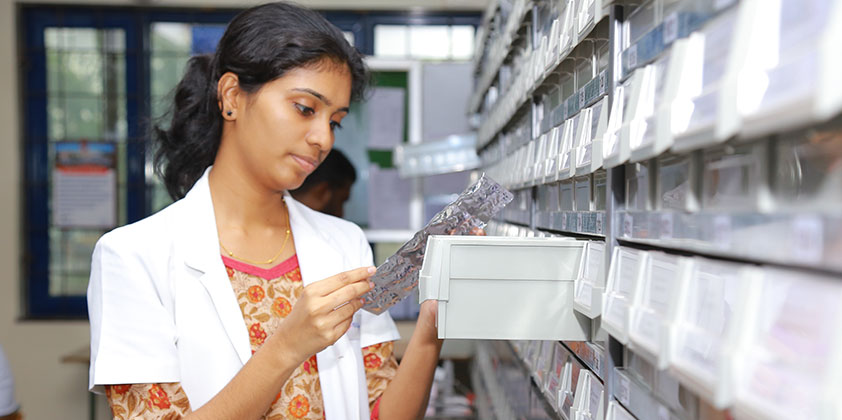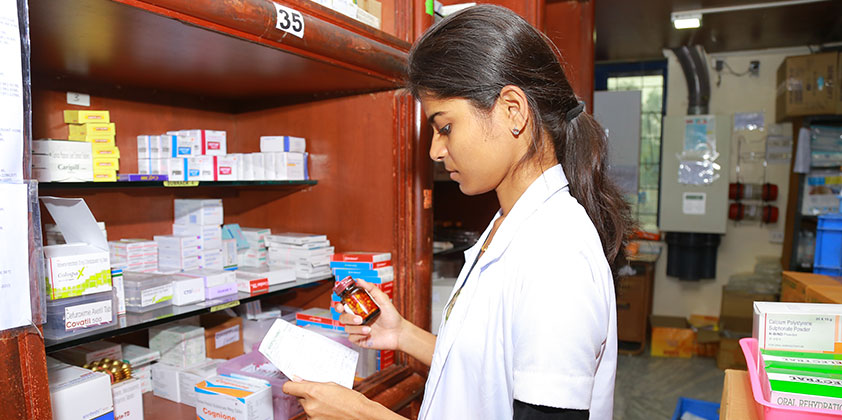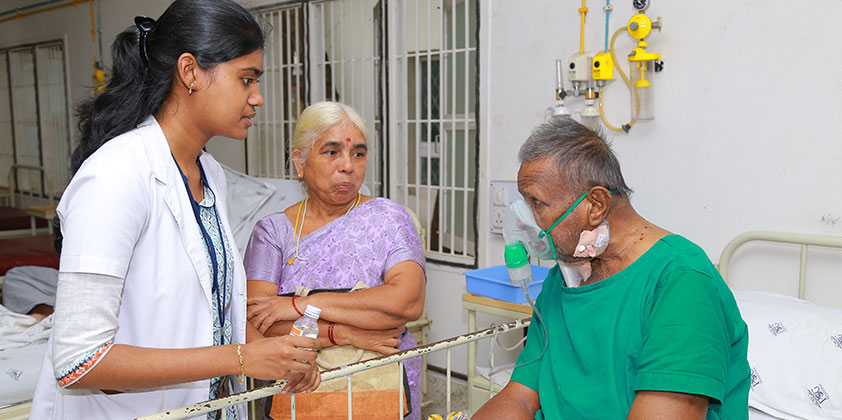 Year of Establishment : 2011
Vision
To bring out potential and more responsible pharmacy graduates
Mission
Excellence in academic performance.
Produce competent clinical pharmacists.
Provide responsible pharmacy services to community.
Inculcate research skills.
Nurture for better placements.
Objective
Achieve100% pass percentage.
Implement Pharmacy Care System (PCS).
Contribute to institute's research publication.
Establish research in the area of clinical pharmacokinetics & pharmacogenetics.
Establish ADR reporting centre.
Establish poison analytical centre.
Establish TDM.
Engage in community partnership.
Create linkages with research organizations.
Faculty :
Professor -1
Associate Professor – 2
Assistant Professor – 3
Academic activity :
PSG College of pharmacy attached with PSG hospitals and providing clinical based services to pharmacy practice students in the following departments
| | | |
| --- | --- | --- |
| General Medicine | Dermatology | Cardiology Pulmonology |
| Gastroenterology | Psychiatry /ICU Respiratory Medicine | Orthopedics |
| Pediatrics | Neurology | Surgery / CTVS Nephrology |
| Oncology | Nephrology | Obstetrics & Gynecology |
Department Activities :
Ward Round Participation
Medication History Interview
Treatment Chart Review
Medication Error Reporting
Adverse Drug Reaction Reporting
Patient Counseling
Drug Information
Prescription Auditing
Antibiotic steward ship Programme
Continuing Pharmacy Education(CPE)
Journal Club
Inquiry based learning
Community Camps
Awareness programmes
Preparation and implementation of patient information leaflets in various departments of PSG Hospitals
News letter publication
External training program- Toledo, Nimhans,Clingene
Adjunct/Guest/Visiting faculty :
Guest Lectures
Mr. Rajesh Thalapparambath
Dr. Subashini.G
Dr. Bharath Rangarajan
Dr. Sudha Ramalingam
Dr. Bhuvaneswari
Dr. Iswarya .S
Dr.P.A. Kumar
Research facilities (Infrastructure) *no photos required :
Medical Records Department
Hospital Information System
Drug Information Centre
Patient Counseling Centre
Model Community Pharmacy
Computer lab
Library
Proquest
Micromedex
IOWA
MD Consult
Med click Data bases
Elseiver
Benthem
Good collection of books and journals
TDM LAB
A separate Therapeutic Drug Monitoring lab is located in college campus for analysis of biological samples of narrow therapeutic index drugs
Number of PGs / Ph.D students:
PG Students: 38
| Years | No of Students |
| --- | --- |
| 2018 | 07 |
| 2017 | 02 |
| 2016 | 10 |
| 2015 | 07 |
| 2014 | 12 |
Publication
(last five years) *numbers only : 26
| Years | No of Publications |
| --- | --- |
| 2018 | 06 |
| 2017 | 07 |
| 2016 | 03 |
| 2015 | 04 |
| 2014 | 06 |
Seminar/Workshop/Conference organized :
2018
Work shop -1
Student Forum-2
CPE -6
2015
Conference-1
Seminar-1
Work shop-1
Area of research :
Research area
Clinical Pharmacokinetics
Pharmacogenetics
Pharmacovigilance
Pharmacoeconomics
Integrated Medicine
Community
Pharmaceutical care
Consultancy : PSG Hospitals
Sample condition :
Contact person details :
Funds received :
Tamil Nadu Pharmaceutical welfare science and trust
VIP Visits
Dr Suphat Subongkot, Faculty of Pharmaceutical Sciences, Thailand, 40002
Prof .Asoka Wettasinghe, Chief Pharmacist, Teaching Hospital, Kandy, Srilanka
Dr.V.Kalaiselvan, Principal Scientific Officer, Indian Pharmacopeia commission, Govt.of India, Ghaziabad
Dr Wong Pei Se Head , Department of Pharmacy Practice, International Medical University, Malaysia
Mr Shangar Subiah, Head – Business Development, IBN SINA Pharmacy, Muscat, Omen.
Dr, Johnnie Early, dean of the college of pharmacy, university of Toledo
HOD
Dr. V. Sivakumar

Professor & HOD

Faculties

Dr.Prudence A Rodrigues

Professor

Dr. P. Rama

Assistant Professor

Admission for B.Pharm, M.Pharm & Pharm.D Program

Apply Now

Visit campus

Join Now

Mrs. R. SUGUNA

M.Com

OFFICE ASSISTANT

| | |
| --- | --- |
| Field of Specialization | ADMINISTRATION (CP) |
| Office Contact Details | PSG College of Pharmacy,Peelamedu, Coimbatore,Tamil Nadu, India. |
| Experience | 9.5 YEARS |

Experience

| S.No | PLACE OF WORK | DEPARTMENT | YEAR |
| --- | --- | --- | --- |
| 1 | PSG COLLEGE OF PHARMACY | ADMINISTRATION (CP) | MAY 2011 – NOV 2019 |
| 2 | PSG COLLEGE OF PHARMACY | ADMINISTRATION (CP) | JUN 2020 – Till date |

Mrs. S. GEETHA

M.A., PGDCA

Executive

| | |
| --- | --- |
| Department | Administration(CP) |
| Contact Details | PSG College of Pharmacy,Peelamedu, Coimbatore,Tamil Nadu, India. |
| Blood Group | O+ve |
| | |

Awards & Achievement

Won First place in Shotput- Women category during PSG Staff Day Sports 2023.

Experience details

| S.No | PLACE OF WORK | DEPARTMENT | YEAR |
| --- | --- | --- | --- |
| 1 | PSG IMSR & HOSPITAL | Health Plan | 2001-2020 |
| 2 | PSG COLLEGE OF PHARMACY | Administration(CP) | 2020-TILLDATE |

Mrs. V. POONGODI

B.A

Office Assistant

| | |
| --- | --- |
| Department | Administration (CP) |
| Contact Details | PSG College of Pharmacy,Peelamedu, Coimbatore,Tamil Nadu, India. |
| Blood Group | B+ve |

Experience details

S.No
PLACE OF WORK
DEPARTMENT
YEAR
1
PSG IMSR & HOSPITAL
Ward Secretary
4.9.2018-1.9.2019
2
PSG COLLEGE OF PHARMACY
Administration(CP)
2.9.2019 to
Till date

Mrs. R.CHITHRA

B.SC., (Biochemistry) PGDMLT (Post Graduate Diploma in Medical Laboratory Technology)

SENIOR LAB TECHNOLOGIST

| | |
| --- | --- |
| Field of Specialization | PHARMACEUTICS |
| Office Contact Details | PSG College of Pharmacy,Peelamedu, Coimbatore,Tamil Nadu, India. |
| Experience | 25 YEARS |

Experience

| S.No | PLACE OF WORK | DEPARTMENT | YEAR |
| --- | --- | --- | --- |
| 1 | APPOLLO HOSPITALS | DIAGNOSTIC LABORATORY | 1990-1991 |
| 2 | PSGIMS & R | DEPARTMENT OF BIOCHEMISTRY | 1992-1995 |
| 3 | PSGIMS & R | DEPARTMENT OF MICROBIOLOGY | 1996-2003 |
| 4 | PSG COLLEGE OF PHARMACY | DEPARTMENT OF PHARMACEUTICS | 2004-TILLDATE |

Mr. Y.ASADHKUMAR

DMLT (Diploma in Medical Laboratory Technology), DCA ,DTP

LAB TECHNICIAN -1

| | |
| --- | --- |
| Field of Specialization | PHARMACOLOGY |
| Office Contact Details | PSG College of Pharmacy,Peelamedu, Coimbatore,Tamil Nadu, India. |
| Experience | 15YEARS |
| Blood Group | B+VE |

Experience

| S.No | PLACE OF WORK | DEPARTMENT | YEAR |
| --- | --- | --- | --- |
| 1 | PSGIMS & R | DEPARTMENT OF PHTHOLOGY | 2000-2004 MAY |
| 2 | PSGIMS & R | DEPARTMENT OF MICROBIOLOGY | 2004MAY-2004 DEC |
| 3 | PSGIMS & R | DEPARTMENT OF PHYSIOLOGY | 2005 – 2007 FEB |
| 4 | PSGCOP | DEPARTMENT OF PHARMACOGNOSY | 2007MAR- 2009 |
| 5 | PSGCOP | DEPARTMENT OF PHARMACOLOGY | 2009 TILLDATE |

Mr. S.KARTHIK KUMAR

B.Com

LAB TECHNICIAN –1

| | |
| --- | --- |
| Field of Specialization | PHARMACEUTICS |
| Office Contact Details | PSG College of Pharmacy,Peelamedu, Coimbatore,Tamil Nadu, India. |
| Experience | 15 YEARS |

Experience

| S.No | PLACE OF WORK | DEPARTMENT | YEAR |
| --- | --- | --- | --- |
| 1 | PSGCOP | PHARMACEUTICS | 15YEARS |

Mrs. S. P. TAMILSELVI

D.Pharm

Lab Technician I

| | |
| --- | --- |
| Field of Specialization | Pharmacognosy |
| Office Contact Details | PSG College of Pharmacy,Peelamedu, Coimbatore,Tamil Nadu, India. |
| Blood Group | B+Ve |

Experience

| S.No | Place | Department | Experience |
| --- | --- | --- | --- |
| 1 | RVS College of Pharmacy RVS | Pharmacy- Lab Ayurveda college-Lab | 1992-96 ( 4 years) 2000-2012 (12 Years) |
| 2 | PSG College of Pharmacy | Pharmacognosy | 2013- till date |

MR. P. MURUGAN

BSc CHEMISTRY

LAB TECHNICIAN-1

| | |
| --- | --- |
| Field of Specialization | PHARMACEUTICAL ANALYSIS |
| Office Contact Details | PSG College of Pharmacy,Peelamedu, Coimbatore,Tamil Nadu, India. |
| EXPERIENCE | 4YEARS 8MONTHS |

EXPERIENCE

| S.NO | PLACE OF WORK | DEPARTMENT | YEAR |
| --- | --- | --- | --- |
| 1 | PSG college of Pharmacy | Pharmaceutical Analysis | 01.01.2014 |

Mrs. A. JAYANTHI

DMLT (Diploma in Medical Laboratory Technology)

LAB TECHNICIAN

| | |
| --- | --- |
| Department | Pharmaceutical Chemistry |
| Office Contact Details | PSG College of Pharmacy,Peelamedu, Coimbatore,Tamil Nadu, India. |
| Blood Group | A+ve |
| Experience | 6 years |

Mrs. K. JAYABHARATHI

B. Sc Chemistry

Lab Technician

| | |
| --- | --- |
| Department | Department of Chemistry |
| Contact address and Phone no | PSG College of Pharmacy,Peelamedu, Coimbatore,Tamil Nadu, India. |
| Blood group | O+ve |
| | |
| | |
| | |

Mrs. A. MARY AROCKIA JACQULINE

HSC

SERVICE ASSISTANT

| | |
| --- | --- |
| Field of Specialization | PHARMACEUTICAL ANALYSIS |
| Office Contact Details | PSG College of Pharmacy,Peelamedu, Coimbatore,Tamil Nadu, India. |
| Experience | 15 YEARS |
| Blood Group | B+VE |

Experience

| S.NO | PLACE OF WORK | DEPARTMENT | YEAR |
| --- | --- | --- | --- |
| 1 | PSGCOP | PHARMACEUTICAL ANALYSIS | 2003 – TILL DATE |

Mrs. T. KANNIAMMAL

SSLC

SERVICE ASSISTANT

| | |
| --- | --- |
| Field of Specialization | ADMINISTRATION (CP) |
| Office Contact Details | PSG College of Pharmacy,Peelamedu, Coimbatore,Tamil Nadu, India. |
| EXPERIENCE | 11 YEAR 6 MONTHS |
| BLOOD GROUP | A1+VE |

Experience

| S.No | PLACE OF WORK | DEPARTMENT | YEAR |
| --- | --- | --- | --- |
| 1 | PSGCOP | ADMINISTRATION CP | FEB 2007 -TILL DATE |

S.R.JAGADESWARI

SSLC

SERVICE ASSISTANT

| | |
| --- | --- |
| Field of Specialization | PHARMACEUTICS |
| Office Contact Details | PSG College of Pharmacy,Peelamedu, Coimbatore,Tamil Nadu, India. |
| EXPERIENCE | 13 YEARS |
| Blood Group | B+VE |

Experience

| S.No | PLACE OF WORK | DEPARTMENT | YEAR |
| --- | --- | --- | --- |
| 1 | PSG College of Pharmacy | PHARMACEUTICS 2008-TILL DATE | 13YEARS |

Mrs.C.CHITHRAPRIYA

HSC

SERVICE ASSISTANT

| | |
| --- | --- |
| Field of Specialization | PHARMACEUTICAL CHEMISTRY |
| Office Contact Details | PSG College of Pharmacy,Peelamedu, Coimbatore,Tamil Nadu, India. |
| Blood Group | A+VE |
| Total Experience | 11 years |

Experience details

| S.No | PLACE OF WORK | DEPARTMENT | YEAR |
| --- | --- | --- | --- |
| 1 | PSG College of Pharmacy | PHARMACEUTICAL CHEMISTRY | 2007-2012 5 YEARS |
| 2 | PSG College of Pharmacy | PHARMACOLOGY | 2015-TILL DATE |

Mrs. R.K.AMBIKA

SSLC

SERVICE ASSISTANT

| | |
| --- | --- |
| Field of Specialization | PHARMACOLOGY |
| Office Contact Details | PSG College of Pharmacy,Peelamedu, Coimbatore,Tamil Nadu, India. |
| Total Experience | 10 YEARS |
| Blood Group | O+VE |

Experience

| S.No | PLACE OF WORK | DEPARTMENT | YEAR |
| --- | --- | --- | --- |
| 1 | PSG College of Pharmacy | PHARMACOLOGY | 8YEARS |

Mrs. A. SUDHA KUMARI

HSC

SERVICE ASSISTANT

| | |
| --- | --- |
| Field of Specialization | PHARMACEUTICAL CHEMISTRY |
| Office Contact Details | PSG College of Pharmacy,Peelamedu, Coimbatore,Tamil Nadu, India. |
| Total Experience | 9 YEARS |
| Blood Group | O+VE |

Experience

| S.No | PLACE OF WORK | DEPARTMENT | YEAR |
| --- | --- | --- | --- |
| 1 | PSGCOP | PHARMACEUTICAL CHEMISTRY | 2012 -TILL DATE 7YEARS |

Mrs. N.NITHYA

HSC

SERVICE ASSISTANT

| | |
| --- | --- |
| Field of Specialization | PHARMACEUTICS |
| Office Contact Details | PSG College of Pharmacy,Peelamedu, Coimbatore,Tamil Nadu, India. |
| Total Experience | 10 YEARS |
| Blood Group | O+VE |

Experience

| S.No | PLACE OF WORK | DEPARTMENT | YEAR |
| --- | --- | --- | --- |
| 1 | PSGH | GENERAL WARD | 2007-2008 |
| 2 | PSGCOP | PHARMACEUTICS | May 2012 to till date |

Mrs.C.PUNITHA

HSC, DIP.IN.COMPUTER APPLICATION

SERVICE ASSISTANT

| | |
| --- | --- |
| Field of Specialization | PHARMACY PRACTICE |
| Office Contact Details | PSG College of Pharmacy,Peelamedu, Coimbatore,Tamil Nadu, India. |
| Blood Group | B+VE |

Experience

| S.No | Place | Department | Experience |
| --- | --- | --- | --- |
| 1 | PSGCOP | PHARMACY PRACTICE | 2015-TILL DATE 3YEARS |

Mr. S. SATHIYA NARAYANAN

SSLC

SERVICE ASSISTANT

| | |
| --- | --- |
| Field of Specialization | PHARMACY PRACTICE |
| Office Contact Details | PSG College of Pharmacy,Peelamedu, Coimbatore,Tamil Nadu, India. |
| EXPERIENCE | 2 YEARS |
| BLOOD GROUP | A+VE |

Experience

| NO | PLACE OF WORK | DEPARTMENT | YEAR |
| --- | --- | --- | --- |
| 1 | PSG COLLEGE OF PHARMACY | PHARMACY PRACTICE | 01.11.2016 – Till Date |

Mrs. V. SUBBULAKSHMI

HSC

Service Assistant

| | |
| --- | --- |
| Qulaification | HSC |
| Department | Pharmaceutics |
| Designation | Service Assistant |
| Blood group | ''O'' POSITIVE |

Mrs. R. KIRUTHIKA

Diploma in Computer Engineering

Service Assistant

| | |
| --- | --- |
| Department | Pharmaceutical Chemistry |
| Contact address and Phone no | PSG College of Pharmacy,Peelamedu, Coimbatore,Tamil Nadu, India. |
| Blood group | B+ve |

Experience

| S.No | PLACE OF WORK | DEPARTMENT | YEAR |
| --- | --- | --- | --- |
| 1 | TAMILNADU COLLEGE OF ENGINEERING | | 2013 – 2017 |

Mrs. R. GEETHA

SSLC

Service Assistant

Dr. M. Ramanathan

M.Pharm., PhD., D.Sc.

Professor/ Principal

| | |
| --- | --- |
| Field of Specialization | Pharmacology |
| Office Contact Details Ph. No | 0422 434 5841 |
| Email-Id | ramanathanm@psgpharma.ac.in |
| Blood Group | O +ve |
| Area of research | Neuroscience/ Neuropharmacology |
| Participation in (last three years) | |
| Conference | 11 |
| Symposia | 06 |
| Training | 01 |

Publication details (last five years)

Total papers published 90 (research article, proceedings, patents, chapter in books and reviews)

(h- index 23 and total citations 2102; i10- index 36)

Gautam M and Ramanathan M. Saponins of Tribulus terrestris attenuated neuropathic pain induced with vincristine through central and peripheral mechanism Inflammopharmacology
2018doi.org/10.1007/s10787-018-0502-0.com
Justin A, Divakar S, Ramanathan M. Cerebral ischemia induced inflammatory response and altered glutaminergic function mediated through brain AT(1) and not AT(2) receptor. Biomed Pharmacother, 102:947-958, 2018
S Divakar, K Saravanan, P Karthikeyan, R Elancheran, S Kabilan, KK Balasubramanian, Rajlakshmi Devi, J Kotoky, M Ramanathan. Design, synthesis and biological evaluation of 2-(4-phenylthiazol-2-yl) isoindoline-1, 3-dione derivatives as anti-prostate cancer agents, Bioorganic & Medicinal Chemistry Letters, 27:1199–1204, 2017
Kandimalla R, Dash S, Kalita S, Choudhury B, Malampati S, Devi R, Ramanathan M, Talukdar NC, Kotoky J. Bioactive fraction of Annona reticulata bark (or) Ziziphus jujuba root bark along with insulin attenuates painful diabetic neuropathy through inhibiting NFkB inflammatory cascade, Frontiers in Cellular Neuroscience, 11, 2017 publisher- Frontiers Media SA
R Elancheran, K Saravanan, S Divakar, S Kumari, VL Maruthanila, S Kabilan, M Ramanathan, R Devi, J Kotoky. Design, synthesis and biological evaluation of novel 1, 3-thiazolidine-2, 4-diones as anti-prostate cancer agents, Anti-cancer agents in medicinal chemistry 2017
B Shah, Darshit and Ramanathan M. Glycogen Synthase Kinase-3: A Potential Target for Drug Discovery in the Treatment of Neurodegenerative Disorders, Current Enzyme Inhibition, 13:107-28, 2017
S Divakar, K Saravanan, P Karthikeyan, R Elancheran, S Kabilan, KK Balasubramanian, Devi R, J Kotoky, M Ramanathan. Iminoenamine based novel androgen receptor antagonist exhibited anti-prostate cancer activity in androgen independent prostate cancer cells through inhibition of AKT pathway, Chemico-Biological Interactions, 275:22-34, 2017
Ramanathan M, Abdul KK, Justin A. Low dose of L-glutamic acid attenuated the neurological dysfunctions and excitotoxicity in bilateral common carotid artery occluded mice. Behav Pharmacol. 27:615-22, 2016
Darshit BS, Ramanathan M. Activation of AKT1/GSK-3β/β-Catenin-TRIM11/Survivin Pathway by Novel GSK-3β Inhibitor Promotes Neuron Cell Survival: Study in Differentiated SH-SY5Y Cells in OGD Model. Mol Neurobiol. 53:6716-6729, 2016
Diallo A, Darre P, Metowogo K, Lawson-evi P, Selva D, Potchoo Y, Creppy E, Ramanathan M. Fetal Toxicity and Cytotoxicity of Lannea kerstingii Engl and Krause Stem Bark (Anacardiaceae) Tropical Journal of Pharmaceutical Research 15: 253-258, 2016
R Elancheran, K Saravanan, Bhaswati Choudhury, S Divakar, S Kabilan, M Ramanathan, Babulal Das, R Devi, Jibon Kotoky. Design and development of oxobenz imidazoles as novel androgen receptor antagonists. Med Chem Res 25:539, 2016
M Ramanathan, A Justin, A Sudheer, S Shanthakumari. Comparison of pre-and post-ischemic treatment of telmisartan and nimodipine combination in experimentally induced cerebral ischemia. Indian J Exp Biology. 54:560-568, 2016
Justin A, Divakar S, Ramamoorthy V and Ramanathan M. Therapeutic Efficacy and Mechanism of Action Assessment of AT1 Blocker Telmisartan with Calcium Channel Blocker Nimodipine and COX Inhibitor Aspirin in Global Ischemic Mice Model. Austin J Cerebrovasc Dis & Stroke. 3:1045, 2016.
Tshibangu DS, Divakar S, Ramanathan M, Syamala G, Mudogo JCV, Tshilanda DD, Misengabu NM, Mpiana PT. In Vitro Anticancer Assessment of Annickia chlorantha (Oliv.) Setten & Maas Stem (Annonaceae) Bark from Democratic Republic of Congo, J Biosci Med. 4:23, 2016
Tshibangu DS, Divakar S, Ramanathan M, Syamala G, Ngbolua KN, Mudogo JCV, Tshilanda DD, Gbolo B, Mpiana PT. In vitro Screening of the Leaf Extracts from Gardenia ternifolia (Forest Gardenia) for their Anticancer Activity, J Comp Alt Med Res. 1:1-7, 2016
Saravanan PB, Shanmuganathan MV, Ramanathan M. Telmisarta attenuated LPS-induced neuroinflammation in human IMR-32 neuronal cell line via SARM in AT1R independent mechanism. Life Sci. 2015 Jun 1;130:88-96.
Siva Selva Kumar M, Ramanathan M. Concurrent determination of olanzapine, risperidone and 9-hydroxyrisperidone in human plasma by ultra performance liquid chromatography with diode array detection method: application to pharmacokinetic study. Biomed Chromatogr. 2015 Jun 30. doi: 10.1002/bmc.3545.
Manogaran E., Ramanathan M., Rama Rao T. Neuroprotective Effect of Curcumin against Cholesterol Induced Neuroinflammation in In-Vitro and In-Vivo Models. J Pharm Sci & Res 7:189-96, 2015
Ranjitkumar R., Premnath P., Ramanathan M. Measurement of Inflammatory Mediators at Different Time Intervals after Neuronal Injury Induced by Bilateral Common Carotid Artery Occlusion Model. J Pharm Sci & Res 7:662-67, 2015
Prathab Balaji S, Vijay Chand C, Justin A, Ramanathan M. Telmisartan mediates anti inflammatory and not cognitive function through PPAR-γ agonism via SARM and MyD88 signaling. Pharmacol Biochem Behav. 137:60-68, 2015.
Ravichandran S, Valliappan A, Ramanathan M. Development and validation of chromatographic method for the simultaneous estimation of olmesartan medoxomil, amlodipine besylate, cilnidipine in combination tablet dosage form. Intnl J Pharmacy Pharm Sci. 7: 321-324, 2015
Darshit BS, Balaji B, Rani P, Ramanathan M. Identification and in vitro evaluation of new leads as selective and competitive glycogen synthase kinase-3β inhibitors through ligand and structure based drug design. J Mol Graph Model 53C: 31-47, 2014.
Rahman MH, Ramanathan M, Sankar V. Preparation, characterization and in vitro cytotoxicity assay of curcumin loaded solid lipid nanoparticle in IMR32 neuroblastoma cell line. Pak J Pharm Sci. 27:1281-5, 2014.
Justin A, Sathishkumar M, Sudheer A, Shanthakumari S, Ramanathan M. Non-hypotensive dose of telmisartan and nimodipine produced synergistic neuroprotective effect in cerebral ischemic model by attenuating brain cytokine levels. Pharmacol Biochem Behav 122:61-73, 2014.
Balaji B, Hariharan S, Shah DB, Ramanathan M. Discovery of potential and selective COX-1 inhibitory leads using pharmacophore modelling, in silico screening and in vitro evaluation. Eur J Med Chem. 86:469-80, 2014.
McLeay SC., Morrish GA, Ponnusamy TK., Devanand B., Ramanathan M., Venkatakrishnan L., Ramalingam S., Green B. Non invasive quantification of hepatic steatosis: Relationship between obesity status and liver fat content. The Open Obesity Journal, 6:16-24, 2014.

Project details

Ongoing Research Projects

| Principal Investigator | Title of Project | Funding Agency | Amount in lakhs |
| --- | --- | --- | --- |
| Dr. M Ramanathan | Development and Elucidation of mechanism of action of herbs to treat Diabetic neuropathic pain | DBT | 10.10 |
| Dr. M Ramanathan | cerebral artery occluded (MCAO Elucidation of neuroprotective mechanism of brain angiotensin in middle) rat model | ICMR | 41.3 |
| Dr. M. Ramanathan | Standardization, validation, toxicity and efficacy studies on Sangu Parpam and Arathai Chooranam | AYUSH | 65.74 |
| Dr. M. Ramanathan | Elucidation of mechanism of action and anti cancer activity of novel iminoenamine derivatives to treat androgen independent prostate cancer | DBT Twinning | 21.58 |

Projects Completed

| Principal Investigator | Title of Project | Funding Agency | Amount in lakhs |
| --- | --- | --- | --- |
| Dr. M Ramanathan | Glabridin derivatives for the estrogen receptor β mediated growth control of the prostate cancer cells | DST (2007-2011) | 20.99 |
| Dr. M. Ramanathan | Some phytochemical, toxicological, pharmacological investigations of Aegle marmelos for a new product" | ICFRE, Deharadun (2008-2011) | 13.14 |
| Dr. M. Ramanathan | Standardization, validation and development of herbal formulation for the treatment of neuropathic pain | DST-DPRP(2008-2011) | 51.2 |
| Dr. M. Ramanathan | Development of glycogen synthase kinase-3β inhibitors for neurogenesis in neurodegenerative disorders | DBT(2011-2014) | 66.11 |
| Dr. M. Ramanathan | Androgen receptor mediated drug development to treat prostate cancer | DBT(2013-16) | 46.6 |
| Dr. M. Ramanathan | Preclinical evaluation of modified estrogen receptor beta agonists for prostate cancer treatment | DST | 32.40 |

Conference/ Workshop/ Symposium/ Seminar organized

Organising Secretary – National Seminar on Cancer Biology and Development of New Chemical Entities held on 20th – 22nd November 2008 sponsored by DST, DBT & CSIR, New Delhi.
Organising Secretary – Annual Conference of Southern Regional Indian Pharmacological Society of India held on 12th – 14th November 2009 funded by DST, New Delhi.
Convenor – National Conference on Experimental Pharmacology & Drug Evaluation on 7th & 8th June 2012.
Convenor – Molecular modeling and drug design workshops every year.

Chapters written in books

M. Ramanathan V. Muthuswamy S.Saravanan, A.K.Chandrsekar, Turmeric an Indian curry- its Phytochemcial and Pharmacological perspective with special reference to anti-inflammatory action. Published in Phytochemistry and Pharmacology III Edited by VK Singh, JN Govil and C Arunachalam, Studium Press, LLC, USA pp 1-20, 2007
B. Balaji, C. Sabarinath and M. Ramanathan. Structural based drug design of estrogen receptor beta selective ligands. Published in Comprehensive Bioactive Natural Products Vol 7 Structural modifications and Drug development Ed Gupta VK, Taneja SC and Gupta BD, Studium Press LLC USA pp 299-314, 2010.

Patent details

PCT/IB2004/000284: Herbal composition comprising commiphora mukul Allium sativum and curcuma longa
Patent Application-1667/CHE/2013- Therapeutic Benefits of Novel Daidzein Analogues in Estrogen-Associated Disorders
Patent Application– 20163100854A dated 08.04.2016- Poly herbal formulation for the treatment of painful diabetic neuropathy

Awards and recognition

Annamalai University Fourth Rank holder (B. Pharm)
Banaras Hindu University Third rank holder (M. Pharm)
Junior Research Fellowship Award of UGC for the year 1992-94
Senior Research Fellowship Award of ICMR for the year 1995-98
Best paper Award in Pharmacology session of TIPS Call 98 held at Annamalai University
Received Young Scientist Fellowship Award 2000 from Tamil Nadu State Council for Science and Technology
P. P. Surya Kumari Prize for the year 2000 from Indian Pharmacological Society for the best paper published in the Journal
Invited as a Guest Scientist by BMBF to work in the Department of Physiological Chemistry, University of Bonn, Germany in June 2001.
Awarded International Brain Research Organization Fellowship for Asia Oceanic region 2001.
Travel grant award and invited to attend the Asian Pacific Society for Neurochemistry 2004, Hong Kong
Received Professional Excellence Award from The Tamil Nadu Dr. MGR Medical University, Chennai on reorganization of service rendered to Pharmacy profession 2011
Received Skiskha Gold Star Award by the society of the Economic for Health and Educational Growth New Delhi for his personal achievement and social activity March 2015.
Guest Professor in the School of Biological Science and Engineering, Shaanxi University of Technology (2017-20).

Ph. D Guidance details

Approved guide under The Tamil Nadu Dr. MGR Medical University Chennai. Guided 13 students and currently 5 students are enrolled for PhD.
32 PG theses guided

Membership of Prof. bodies/ Institutional committees

Life member, International Brain Research Organization
Life member, Indian Pharmaceutical Association
Secretary, Indian Pharmaceutical Association, Coimbatore Local Branch
Life member, Society for Neurochemistry of India
Member, Indian Pharmacological Society
Member International Federation of Pharmaceutical Sciences
Member- Board of Studies Research, The TN Dr. MGR Medical University, Chennai (2009-12)
Member- Board of Studies Pharmacy, The TN Dr. MGR Medical University, Chennai (2012-15, 2015-18)
Member- Institutional Animal Ethics Committee
Member- CCRS Siddha Pharmacopoeia Commission
Member- Scientific Services Committee, IPC (2010-2015)
Member- Board of Studies Pharmacy, Annamalai University, Chidambaram (2009-15)

Journal/ Book reviewer/ Course material

Reviewer/ Referee for various international and national journals

Abroad Visits.

The visits were mainly to attend conferences, to explore the teaching learning process in various universities, as visiting faculty, and for research collaboration

European countries
USA
East Asian countries (Malaysia, Singapore, Hong Kong)
China
Dubai

Dr. V. Sankar

M. Pharm., PhD.,

Vice principal and Professor

| | |
| --- | --- |
| Field of Specialization | Pharmaceutics |
| Office Contact Details | PSG college of pharmacy, Peelamedu,Coimbatore -641004 |
| Ph. No | 0422 -2570170 Extn 5849 |
| Email | sankarv@psgpharma.ac.in |
| Residential Address | No 3F 7 A ,R R Darshan Apartments , GV Residency, Sowripalayam, Coimbatore -641028 |
| Blood Group | A1 Positive |
| Area of research | Nano Technology, Colloidal Drug Delivery system, Topical Drug Delivery using Herbal Components, Drug utilization, Medication adherence , Pharmacoeconomics, Medication errors |

Participation in conference/ symposia/ training

Resource Person

Presented a talk in the 2 days International conference on Roles and Responsibilites of Pharmacist on Chronic Disease Management , Adverse Reaction and Therapeutic Drug Monitoring sponsored department of science and technology held on 24th-25th April 2015 at PSG college of pharmacy, Coimbatore
Delivered a talk in the Tamilnadu Dr MGR university sponsored One day state level conference on Biopharmaceutical Approach on Drug Development and its applications in clinical Practice held on 26th Feb 2016 at Erode college of pharmacy, Erode.
Delivered a talk in the Two day National conference on Trend Setting Innovations in Chemical Sciences And Technology sponsored by Oil Technological Research Institute ( OTRI, Constituent Unit of Jawaharlal Nehru Technological University, Anantapur) held on 12th-13 th Feb 2016 at OTRI, Ananthapuramu.
Delivered a talk in the Tamilnadu Dr MGR university sponsored One day National level workshop on Biopharmaceutical Nano Materials Characterization Techniques held on 11th -12th August 2016 at Department of Pharmaceutics, PSG college of Pharmacy.
Delivered a talk in one week CME Programme for medical officers on cancer burdens and siddha management sponsored by Ayush, Govt of india held on 13 -25 March 2017 at National Institute of Siddha, Tambaram, Chennai Ministry of Ayush, Govt of India
Delivered a talk in the 2-day Symposium on current trends in fundamental biochemical research: diverse applications from agriculture to human health sponsored by Department of Science and Technology, Govt of india held on 13 -14 December 2017 at Centre for Advanced studies ,PSG college of Technology, Coimbatore.
Delivered a talk in the Two weeks workshop on Analytical techniques in Bioprospecting of Medicinal Plants sponsored by Department of Biotechnology, Govt of india held from october22 – November 3rd 2017 at Department of botany, Bharathiar university, Coimbatore.
Delivered a talk in the Two weeks Quality Improvement programme Advanced Trends in Pharmaceutics sponsored by All India Council For Technical Education , Govt of india held from 9th -24 thMarch 2018 at Department of Pharmaceutics , JSS college of Pharmacy, ooty.
Delivered a talk in the 2-day National seminar on Research Advances and Therapeutic Interventions In Neurodegenerative Disorders sponsored by Indian Council of Medical Research , Govt of india held on 07 -08 th july 2018 at Department of Pharmacology , JSS college of Pharmacy, ooty.

Presentation

Presented 3 posters 13th international symposium on healthy Aging organized by Li Ka Shihng Faculty of Medicine, The University of Hong Kong on 10th &11th March 2018 in Hong Kong.

Brimonidine In Situ Gel for Ophthalmic Delivery: Formulation and Evaluation
Formulation and Evaluation of SNEDDS With Justica adhatoda And Psidium guajava To Enhance Platelet Count
The Impact of patient information leaflets to prevent hypoglycemia in out patients with type 2 diabetes mellitus

Participation

Participated in the University Accredited Continuous Pharmacy Education (CPE) Program on Drugs used in preganancy organized by Department of Pharmacy practice, PSG college of Pharmacy, Coimbatore on 09th June 2015
Participated in the National conference on Pharmacovigilance & Pharmacoeconomics organized by Department of Pharmacy practice, PSG college of Pharmacy, Coimbatore on 27th June 2015 .
Participated in the Workshop on Teaching Learning and Evaluation organized by Department of Medical Education , PSG Instiute of Medical Sciences and Research , Coimbatore on 22nd October 2015
Participated in the Continuing Professional Development Programme –IV for Community and hospital Pharmacists titled Creating Awareness and Emphasizing Pharmacist Role In TB Control DOTS Therapy organized by Department of Pharmacy practice PSG College of Pharmacy , Coimbatore in association with RNTCP, Coimbatore and IPA- CPD Mumbai on 09th March 2016 .
Participated in the workshop on Role of Pharmacist in clinical research organized by PSG College of Pharmacy , Coimbatore and sponsored by Novaritis health care Pvt ltd , Hyderabad on 25th June 2016 .
Participated In the workshop on Effective use of Moodle – A learning Management System Organized by PSG centre for Academic research and excellence , Coimbatore on Nov 07,2016 .
Participated in the 2days National convention on the theme Pharma vision 2030 – Planning the future organized by B S Abdur Rahman Crescent Instiute of Science and Technology, Chennai and sponsored by Indian Pharmaceutical Association ,Chennai on 10th and 11 th February 2018 .
Participated In the workshop on Academic leadership Organized by PSG centre for Academic research and excellence , Coimbatore on April 10, 2018
Participated in the 2days seminar on the theme industrial Pharmacy, Quality control & Assurance and Management organized by Sri ramakrishana institute of paramedical sciences , Coimbatore and sponsored by Indian Pharmaceutical Association ,Coimbatore and Taminadu pharmaceutica sciences welfare trust on 5th and 6 thMay 2018

Chairperson/Evaluator

Chaired the scientific session in the Two Days National Level Conference on Convergence of Technology in Phytophrmaceuticals and its importance in trade and Entrepreneurship Sponsored by DST and ICMR and organized by Department of Pharmacognosy, PSG college of pharmacy, Coimbatore on 11th and 12th November 2016 .
Chaired the scientific session in the Two Days National Level Conference on Biosensors : A pharmaceutical perspective organized by Department of Pharmaceutical chemistry, PSG college of pharmacy, Coimbatore on 27th and 28th April 2018 .
Evaluated the oral presentation in the Two Days National seminar on Bioinformatics –A tool for Pharmaceutical Biotechnology and Drug discovery Sponsored by ICMR and organized RVS college of pharmacy, Coimbatore on 21st and 22nd June2018 .
Evaluated the E poster presentation in the Two Days National seminar on Research Advances and Therapeutic Interventions In Neurodegenerative Disorders Sponsored by ICMR and organized JSS college of pharmacy, Ooty on 6th and 7 th July 2018 .

Publication Details (last 5 Years)

National

Neurochemical Assessment and Behavioral Role of Tuberoinfundibular Peptide-39 in Acute Restraint Stress-Induced Depression in Rats. Sankar V, Ramanathan M, Venkatesh G. Asian J Pharm Clin Res, Vol 11, Issue 1, 2018, 332-336
Sankar V., Nimitha M and Rama P. A Prospective Study Based on The Evaluation of Daily And Intermittent Dosage Regimen of Anti-Tubercular (ATT) Drug Therapy. Indian Drugs, 55 (03) March 2018.49-57
V Sankar, AE Oommen, A Thomas, JV Nair, JS James. Efficacy, Safety and Cost Effectiveness of Amitriptyline and Pregabalin in Patients with Diabetic Peripheral Neuropathy. Indian Journal of Pharmaceutical Sciences. 2017 79 (4), 646-650.
Ramanathan M, Sankar V, and Sivaram Hariharan.Striking the Right Balance – Product and Process Patenting. Pharma Times – Vol. 49 – No. 07 – July 2017
Veintramuthu Sankar , Gunasekaran M, Rinku Mary Joseph , Raguthaman G. Assessment of Prescribing Patterns, Risk Factors, and Co-Morbidity in Psychiatric Disorders. Journal of PharmaSciTech, Volume 6, Issue 1, 2016, 25-28.
Veintramuthu Sankar,Kanaka Durga,Krishna Priya,Sonymol Jose, Rinku Mary .Open label observational comparative efficacy study of ceftriaxone and levofloxacin in COPD exacerbations. Journal of Pharmacy practice and community medicine. 2016, 2 (2), 1-7
S.M Vithunes, V Sankar. Vancomycin Induced Rashes -A Case Series Report. International Journal of Pharmacy Practice & Drug Research, 6(2), 2016,1-2
V Sankar, Y Saaed, RM Joseph, H Azizi, PM Thomas. Serious Drug-Drug Interactions in the Prescriptions of Diabetic Patients. Medical Sciences. 2015, 3 (4), 93-103.
Arjunan K, Bharadhan B, Uma Poorani T, Shankar V, Nagarjan A, Ramanathan M. Review on Natural Medicinal Source For Cancer Treatment. World Journal Of Pharmacy And Pharmaceutical Sciences, 2015, Volume 4, Issue 01, 1-20.
V.Sankar, Yousif Saaed, Pinky Mariyam Thomas. Prescription Analysis of hypertensive patients for serious drug interactions. Indian pharmacist. 2015, 13 (1), 47-50.
V Sankar. Medication reconciliation for patient safety-Role ahead for clinical pharmacists in India. International journal of Pharma Research. 2015, 6 (1), 1-4
Veintramuthu Sankar,Ramya Krishna,Vuyyuru Krishna Reddy, Narmadha Muthu. Role of pictograms in educating diabetic patients about medication use and life style modifications. Indian Journal of Pharmacy Practice. 2015, 8 (3), 1-11.
G. Andhuvan , V.V.Venkatachalam and V.Sankar. Impact of Pharmacist Involvement in Improving Knowledge And Medication Adherence in Heart Failure Population. World Journal of Pharmacy And Pharmaceutical Sciences, Vol 4, Issue 02, 2015, 480-487
G. Andhuvan, V. V. Venkatachalam, V. Sankar.Impact of Pharmacist Education on Medication Adherence In Heart Failure Patients. International Journal of Pharmacy And Pharmaceutical Sciences. Vol 6, Issue 11, 2014, 1-3
Veintramuthu Sankar , Akash Kurian, Asha Sara Stephen. Health Benefits and Complications Involved in Probiotics. Int.J.Pharm Anal, Vol: 2 Issue:5, 2014 Page:460-466
V.Sankar, Akash Kurian. Probiotics – A Review. PharmaTutor Magazine , Vol. 2, Issue 4, 2014, 61-66.
Britto Duraisingh L. , Chalasani A, Ponsubharam S., Vijayaraguvaran R., Sankar V. A Study on Drug Utilisation Pattern of ACEI in an Indian Multispeciality Hospital. Asian Journal of Pharmaceutical Research and Development. Vol.1 (2) March –April 2013:84- 91
LB Duraisingh, V Sankar, S Hariharan. The need for a national level competency for licensing examination for the doctor of pharmacy degree in India. American journal of pharmaceutical education . 2013,77 (6), 133

International Publications

Veintramuthu SANKAR , Antony JUSTIN , Hosseiny Matin payman , Pradeep swathy , Nattam sai charan kumar , Rajasekaran senthil kumar.Medication adherence and clinical outcomes in type 2 diabetes mellitus patients with depression: A prospective interventional study. Marmara Pharm J 2018; 22(4): 599-606
V Wilson, K Siram, S Rajendran, V Sankar. Development and evaluation of finasteride loaded ethosomes for targeting to the pilosebaceous unit. Artificial cells, nanomedicine, and biotechnology,1-10,2017.
Venkatesh Gunasekaran, Sankar Veintramuthu, Muthiah Ramanathan, Divakar Selvaraj. Tuberoinfundibular Peptide of 39 Attenuates Chronic Unpredictable Mild Stress Induced HPA Axis Dysregulation, Inflammation and Oxidative Damage in Depressive Rats.. Current Bioactive Compounds, 2017
A Porselvi, MSU Shankar, KS Lakshmi, V Sankar. A Retrospective Qualitative Study on Current Diabetic Foot Ulcer Management and Discussion on Extended Role of Clinical Pharmacist Marmara Pharmaceutical Journal. 2017, 21 (2), 412-418
Veintramuthu Sankar, Rinku Mary Joseph,Pinky Mariyam Thomas,Paul C. Auguin,Ritto Thomas.Pictogram: A Better Tool for Counselling Tuberculosis Patients on Medication Use, Diet, and Life Style Modifications. Athens Journal of Health, Vol. 4, No. 1, 2017 ,61-81
V Gunasekaran, SK Srinivasan, S Veintramuthu. Assessment of vitamin D on metabolic disorders in arthritic prediabetic patients-a pharmacological approach. International Journal of Pharmaceutical Sciences and Research. 2016, 7 (6), 2648.
Mohamed Habibur Rahman, Muthiah Ramanathan and Veintramuthu Sankar Preparation,characterization and in vitro cytotoxicity assay of curcumin loaded solid lipid nanoparticle in IMR32 neuroblastoma cell line, Pak. J. Pharm. Sci 27(5), 2014, 1281-85. Impact Factor 1.1
Veintramuthu Sankar., Elizabeth Babu, Karthik Sriram ,Shalini Devi Penmetsa, Balakumar Kabila, Chakravarthi R Srinivas and Reena Rai, Formulation and Cinical Evaluation of Triamcinolone Acetonide Niosomes: Effect of Iontophoresis on the Permeation Across Skin, Pharmaceutical Nanotechnology, 2013, 1, 282-289.

Project details

Minor research grants

Impact of Community Pharmacies Intervention In Detection and Management of Tuberculosis in Coimbatore, Tamilnadu (IPA- CPD – Eli Lilly Grant) Rs 40,000/- in the year 2014 -2015.

Conference/ Workshop/ Symposium/ Seminar organized

Received Grant for the Department as organizing secretary from the Department of Science and Technology, DST( Rs 90,000) for conducting a International conference on Pharmacy Practice on April 24th and 25th 2015 at PSG College of Pharmacy, Coimbatore.
Received Grant for the Department as organizing secretary from the Department of Science
and Technology, ( Rs 75,000) and ICMR (40,000/) for conducting a National Conference on Current Perspectives in Novel Drug Delivery Systems on 16 and 17 th June,2017 at PSG
College of Pharmacy, Coimbatore.

Book Details

Marine pharmaceutical Compounds'. Published by a leading German publisher (Year 2012 Lambert Academic Publishing Co,Germany), this publication largely deals with the marine organisms of Indian seas and their potentials for the isolation of biomedical compounds which could be used for developing new drugs for the treatment of life threatening and drug resistant diseases like cancer and AIDS.
A Textbook of Novel Drug Delivery Systems (Year 2012 Pharma book syndicate ,Hyderabad). It consists of 10 chapters and covers concepts in mucoadhesive drug delivery system, oral controlled drug delivery system, prodrugs, resealed erythrocytes and transdermal drug delivery systems. It will be useful for undergraduate and post graduate students in pharmacy
A chapter in a Textbook "Ethosomes: An Exciting And Promising Alcoholic Carrier System For Treating Androgenic Alopecia" in the book Alopecia (Year 2018, Intech open, London).

Patent details

Herbal Ant Repellant No: 997/CHE/2004
Date: 2007-09-14, filed 2004-09-29
office: Chennai

Awards Received

Best Pharmacy Teacher Award

Received the award from the PSG Sons & Charites Trust, Coimbatore on Teacher Day in the year 2016
Received the award from The Tamilnadu Dr. MGR. Medical University, Chennai in the year 2011.

Industry Institution project award:

Sangrose PSG Pharma Best Thesis Award for the thesis entitled "Folate conjugated Solid Lipid Nano particles for Carboplatin" in the year 2012

Best paper Awards

Mr . Karthik Siram completed PhD under my guidance received the best oral presentation award for the title Ligand Conjugated Nano Drug Delivery System to Prevent Lymphatic Metastasis of Breast Cancer in the DST-ICMR sponsored National Conference on Current Perspectives in Novel Drug Delivery Systems on 16 and 17 th June, 2017 at PSG College of Pharmacy, Coimbatore.
Mr . K Arjunan doing PhD under my guidance received the best poster award for the title
Formulation and characterization of surface adsorbed silver nanoparticles for breast cancer
therapy in the DST-ICMR sponsored National Conference on Current Perspectives in
Novel Drug Delivery Systems on 16 and 17 th June, 2017 at PSG College of Pharmacy,
Coimbatore.
Miss Tamilselvi doing M Pharm under my guidance received the best poster award for the title Exploring combined herbal extract loaded phytoniosome capsules for anti-malarial activity and the antibacterial activity against methicillin resistant staphylococus aureus in the ICMR sponsored National Seminar on Bioinformatics – A Tool for Pharmaceutical Biotechnology and Drug discovery at RVS college of pharmaceutical sciences, Sulur , Coimbatore

Ph. D Guidance details

| S.no | Name of the student | Title | Status | Year of completion |
| --- | --- | --- | --- | --- |
| 1 | Dr S.M Habibur Rahman( Co guide) | Formulation characterization and evaluation of curcumin loaded solid lipid nanoparticle | Completed | 2016 |
| 2 | Dr Andhuvan( Co guide) | Pharmacist Education on Medication Adherance in Heart Failure Patients | Completed | 2017 |
| 3 | Karthik Siram | Development of Ligand Conjugated Nano Drug Delivery System to Prevent Lymphatic Metastasis of Breast Cancer | Completed Awaiting for Viva Voce | 2017 |
| 4 | Mrs P Rama | Risk factor and co- morbidity assessment in patients with breast cancer : a case control study | Ongoing | 2018 |
| 5 | Mr G Venkatesh | Behavioral and neurochemical assessment of parathyroid hormone (PTH 2) receptor agonist tubero infundibular peptide 39 (tip 39) in neurological disorders | Completed Awaiting for Viva Voce | 2018 |
| 6 | Mrs Maida Angels | Design , Synthesis Characterization and Biological Evaluation of Some Novel Pancreatic Lipase Inhibitors | Completed Awaiting for report | 2018 |
| 7 | Mr K Arujunan | Synthesis Characterization and Preclinical Evaluation of Silver Nanoparticle For The Treatment of Breast cancer | Ongoing | 2021 |

Membership Of Prof. bodies

Indian Pharmaceutical Association (IPA) Membership NO ( TN/COIM/LM/0053)
Association of Pharmaceutical Teachers of India (APTI) Membership NO ( TN/MDS /LM/0384)
Indian Pharmacy Graduates Association (IPGA) (No 915)
Indian Hospital Pharmacy Association (IHPA) (Appl No 50196)
Institutional committees

Board of studies in Pharmacy SRM university, Chennai
Research Mentor for PSGR Krishnammal College for women, Coimbatore.
Syllabus reviewer for Biopharmaceutical graduate course under Biotechnology Department in PSG college of Arts and science ,Coimbatore
External Award Selection Jury (state level competition ( Tamilnadu, kerala)) for the Best Faculty Award in life sciences by Nehru group of institutions, Coimbatore.

Journal/ Book reviewer/ Course material

Editor : International Journal of Pharma Research, India

Editorial board member

Asian Journal of Pharmaceutical and health sciences ,India
Journal of bioequivalent studies , India
International journal of experimental research in pharmacy,India

Reviewer:

Saudi Journal of Pharmaceutical Sciences
Current Drug delivery

Abroad Visits

Visited Taylors university and International Medical University, Kulalampur , Malaysia on 13th October 2014
Visted Hongkong university for attending 13th International Symposium on Healthy Aging on March 10 & 11, 2018.

Dr. G. Syamala

M.Pharm., Ph.D.,

Associate Professor

| | |
| --- | --- |
| Field of Specialization | Pharmacognosy |
| Ph. No | 9976084164 |
| Email | syamalag@psgpharma.ac.in |
| Residential Address | 50/1 Balaguru garden, Peelamedu, Coimbatore - 641004 |
| Experience | 17 Years |
| Blood Group | B +VE |

Area of research

Screening of herbal raw materials and isolation of phytoconstituents
Research in the formulation and standardization of herbal formulations
Consultancy work on qualitative and quantitative estimation of phytochemicals using the Instrument HPTLC

Participation in conference/symposia/training

Conference presentations

Chemical Profiling- NMR LCMS : Isolation and Identification of Bioactive Compounds from the Roots of Aegle marmelos – presented in the conference APTICON-2016 – 21st Annual National Convention conducted by MCOPS Manipal, 2016
Simultaneous estimation of caffeic acid and gallic acid in Basella rubra extracts using High performance Thin Layer Chromatography – presented in an International conference on herbal medicine conducted by JSS University, Mysuru on 30-31st March 2015
Anti tumor studies from the roots of Aegle marmelos – presented in the Conference on Collaborative Research in Ayurveda & Modern Biology 2014 conducted at Arya Vaidya Pharmacy (AVP), Coimbatore, TamilNadu
High-Performance thin-layer chromatographic quantification of p-coumaric acid in Aegle marmelos – presented in the conference Advanced Chromatographic techniques conducted by JSS University, Mysuru in 2013

Training /Refresher courses/Workshop undergone

Workshop on documenting the teaching practice conducted by PSG CARE, PSGIM
(18 Dec 2017)
Training on Effective use of Moodle –A Learning Management System conducted by PSG CARE, PSGIM Coimbatore (7 Nov 2016)
ISO 9001:2015 Internal Auditor Training course conducted by TUVRheinland (India)Pvt.Ltd.(7-8 October 2015)
ISO 9001:2008 Internal Auditor Training course conducted by TUVRheinland (India)Pvt.Ltd.Certificate number: TRG/CBE/ISO 9001:2008/IQA/0818-2965 (30-31st July 2009)
ISO 9001:2000 Internal Auditor Training Course conducted by BSi Management Systems. Certificate number :QMS02-0710-0335 (20-21st November 2007)
AICTE sponsored program on Current trends in herbal drug research held at JSS College of Pharmacy, Ooty. (09.03.2003-22.03.2003)
UGC sponsored refresher course in Pharmaceutical sciences organized by the Department of Pharmacy, Annamalai University, Chidambaram.(10.06.2002-30.06.2002)
Training in the Dispensing of Schedule N Drugs in the drug manufacturing department at Kasturba hospital, Manipal (21.07.1997 -28.07.1997)

Publication details : 10

Publications

International

Damien S. Tshibangu, Selvaraj Divakar, Muthiah Ramanathan, Govindarajan Syamala, Koto-te-Nyiwa Ngbolua, Jean Chrysostome V. Mudogo1, Dinangayi D. Tshilanda1, Nicole M. Misengabu4, Pius T. Mpiana. In Vitro Anticancer Assessment of Annickia chlorantha (Oliv.) Setten & Maas Stem (Annonaceae) Bark from Democratic Republic of Congo.Journal of Biosciences and Medicines, 2016, 4, 23-29
S.P.Dhanabal, G.Syamala and B.Suresh. Protective effect of Pterocarpus santalius on Galactosamine induced Liver Damage: Hamdard medicus 2009 :(52);161-168
G.Geetha, A.K.Chandrasekaran, P.Brindha and G.Syamala. Preliminary Phytochemical and Pharmacognostical Studies of Achyranthus rubrofusca Linn. Hamdard medicus 2006; VolXLIX (4) : 115-120
S.P.Dhanabal, G.Syamala, K.Elango and B.Suresh. Protective effect of Pterocarpus santalinus on Galactosamine induced Liver Damage. Natural product sciences: 2006 ;12 (1) : 8-13
S.P.Dhanabal., G.Syamala, M.N.Satish Kumar and B.Suresh. Hepatoprotective activity of the Indian medicinal plant Polygala arvensis on D-galactosamine induced hepatic injury. Fitoterapia, 2006 ; 77 : 472-474 (IF : 2.01)

National

D. Aboudoulatif, D. Selva, V. Gunasekaren, Syamala. G Jagadeesan, E.-G. Kwashie, R. Muthiah and C. E. Edmond In vitro and in vivo genotoxicity assessment of total alkaloids of ageratum conyzoides l. Leaves (asteraceae) by alkaline comet assay IJPSR, 2015; Vol. 6(7): 2748-2754.
G.Syamala*, M. Ramanthan, S. P. Dhanabal . Antitumor potential of standardized extract From Aegle marmelos root on Dalton's lymphoma induced mice model. IJPSR, 2015; Vol. 6(5): 1000-06.
Syamala.G*, Ramanathan.M, Dhanabal S.P. Stability of Quercetin and P-coumaric acid content of Aegle marmelos extracts. International Journal of Pharma Research – Volume 5 : 2 July – December 2014:21-24
Syamala.G*, Ramanathan.M, Dhanabal S.P. A validated HPTLC method for the estimation of flavonoid in the roots of Aegle marmelos. International Journal of Pharma Research. July – December 2013:17-20
Nilani.P, Duraisamy.B, Dhanabal.S.P, Saleemullah Khan, Suresh.B, V.Shankar, Kavitha.K.Y, Syamala.G. Antifungal activity of some Coleus species growing Nilgiris. Ancient science of life 2006 : XXVI (1&2):82-84

Project details

Under graduate guidance on the following topics

Development and evaluation of herbal cosmetic from Ocimum basilicum
Phytosynthesis of silver nanoparticles using Moringa oleifera and its antibacterial activity
Standardization of Bilvadilehya
Simultaneous Estimation of phenolic compounds in Basella rubra by HPTLC
Stability Studies of Aegle marmelos Extracts
Planar chromatography in Phytochemical validation
Densitometric determination of flavonoids from the roots of Aegle marmelos
Value addition of Basella rubra
Optimization of Extraction Condition for Phenolics from Pterocarpus santalinus
Evaluation and Pharmaceutical and microbial qualities of certain poly herbal formulation
Ethnobotanical Survey conducted of Thirumurthy Hills

Conference/ Workshop/ Symposium/ Seminar organized:Organizing committee member in

National level conference on Convergence of Technology in Phytopharmaceuticals and its Importance in Trade and Entrepreneurship on 11th and 12th of November 2016
State Level Symposium on Current Trends in Herbal Science conducted on 26th September 2015
National Seminar on Cancer biology and New Chemical Entities conducted on 20, 22 Nov 2008
Annual conference on Southern Regional Indian Pharmacological Society conducted on 12-14 Nov 2009

Awards received

PSG Teacher of the year awarded on 5th September 2015
Secured Third prize in the poster presentation entitled " Simultaneous estimation of caffeic acid and gallic acid in Basella rubra extracts using High performance Thin Layer Chromatography" Joint International Conference on Herbal Medicine, conducted by JSS University, Mysore (30 -31st March 2015)
Secured Second prize for oral presentation entitled "High performance thin layer chromatographic quantification of rutin in roots of Aegle marmelos" in a National conference PHARMACON III 2011, conducted by Nehru college of Pharmacy, Pampady, Kerala (14-15th October 2011)

Dr. S. Ravichandran

M.Pharm., Ph.D.,

Professor & HOD

| | |
| --- | --- |
| Field of Specialization | Pharmaceutical Analysis & Quality Assurance |
| Office Contact Details | PSG college of pharmacy,Dept of pharmaceutical analysis, peelamedu, Coimbatore |
| E-mail | sravichandran@psgpharma.ac.in |
| Blood Group | - |
| Area of research | Bio analytical Method development |

Participation in conference/ symposia/ training: Participated in conference/ symposia/ Training

National level Conference on "Biosensors: A Pharmaceutical Perspective on 27th 7 28th April 2018 As Chairperson.
Workshop on "Documenting the teaching practice", PSG Center for Academic research and Excellence on December 18th 2017
Workshop on "Effective use of Moodle- A Learning management system", PSG Center for Academic research and Excellence on November 02nd 2016.
Lecture on "Insights on Enhanced Classroom Delivery", PSG Center for Academic research and Excellence on September 29th 2016.
Training program in Medical Textiles at The South India Textiles Research Association, Coimbatore-14 on 13th July 2016
Workshop on Teaching learning & Evaluation at PSG Institute of Medical Sciences and Research on 22nd October, 2015
National Level Conference on current trends in herbal science at PSG College of pharmacy on 26th September 2015
National seminar on chiral synthesis, separation and analysis-application towards drug discovery, development and use at Annamalai University, Chidambaram on 27th April 2012

Publication details: Published in National and International journals

Published a paper entitled "Development and validation of combined dosage form of Torsemide and Spironolactone in Ultra violet spectroscopy by simultaneous equation method", S.Ravichandran (as Author), Rajeswari, in International journal of chem tech research", vol 11, 9, 2018
Published a paper entitled "Bio analytical method development and validation for simultaneous estimation of lercanidipine and atenolol in human plasma by using RP-HPLC". Ravichandran. S (as Author) and Gokul.P in "World journal of pharmaceutical research", vol 6,13,2017,404-417.
Published a paper entitled "Development and Validation of RP-HPLC method for the Simultaneous Estimation of Paracetamol, Domperidone and Esomeprazole magnesium in Tablet Dosage Form", Ravichandran S.,( as Author) Keerthibala, in "International Journal of Pharm Tech Research" , 9(7), 2016 pp 200-206.
Published a paper entitled "Preparation, Evaluation and Optimization of Atorvastatin Nanosuspension Incorporated Transdermal Patch" S.Ravichandran (as co-author), M.Keerthana Devi, C.Vaiyana Rajesh, M.Sakthi, G.Suganya, S.Subramanian in "Asian Journal of Pharmaceutics" 10 (4) 2016: 487-491. (Impact Factor: 0.75) (Thomson Reuters Indexed).
Published a paper entitled "Development and validation of chromatographic method for the simultaneous estimation of olmesartan medoxamil, amlodipine besylate and cilnidipine in combination tablet dosage form", Ravichandran, S (as author), valliappan K, Ramanathan in "International journal of pharmacy and pharmaceutical sciences",vol 7 (7),2015 321-324.
Published a paper entitled "Validated RP-HPLC method for concurrent determination of phenytoin sodium and clopidogrel bisulphate in tablet dosage form", Ravichandran S (as author) Valliappan. K, Ramanathan. M, in "Journal of pharmaceutical science and research" ,vol 7 (11). 2015, 934-937.
Published a paper entitled "Formulation of Olmesartan Medoxomil Nanoparticulate Drug Delivery for Enhancement of Oral Bioavailability by Ionic Gelation Techniques", S.Ravichandran (as co- author), Mohamad Abdul Shareef, S.Subramanian, M.Kaviarasu in "Journal of Pharmacy Research" 8(8) 2014: 1067-1070. (Impact Factor: 0.53)
Published a paper entitled "Nanoparticles: The Better Formulation Approach for Improving the Bioavailability of Poor Aqueous Soluble Drugs", S.Ravichandran (as co-author in collaboration with Annamalai University), Venkatachalam V.V, G.Andhuvan, S.Subramanian in "International Journal of Review in Pharma Sciences" 2(1) 2012: 41-44.
Published a paper entitled "Formulation and Physico-chemical Evaluation of Indomethacin Transdermal Patches", S.Ravichandran, (as co-author in collaboration with Annamalai University), G.Andhuvan, S.Subramanian, Venkatachalam V.V, in "International Journal of Research in Pharmaceutical Sciences" 3(2) 2012: 356-359. (Impact Factor: 0.22).
Published a paper entitled "Cerebro- protective effect of Decalepis Hamiltoni against global model of ischemia in rats", S.Ravichandran (as co-author), N.Sriram, S.Shaid mohammed, and S.Sakthivel in "International journal of pharmacology and toxicology",2(1), 2012,7-11.

Project details : UG & PG Projects

Conference/ Workshop/ Symposium/ Seminar organized

Conference and Seminar Organized
National level conference on Bio analytical Techniques 2012 (DRDO sponsored) as co-cordinator.
Seminar on Current Techniques in LC- MS.

Abroad Visits: Malaysia- WHO Conference, Kingdom of Saudi Arabia, Singapore, Switzerland, UAE, Sultanate of Oman.

Dr.Prudence A Rodrigues

M.pharm., PhD.,

Professor

| | |
| --- | --- |
| Field of Specialization | Pharmacy Practice |
| Office Contact Details | PSG College of Pharmacy, Peelamedu, Coimbatore-4 |
| Ph.No | 9952582356 |
| E-mail | prudencear@rediffmail.com |
| Residential Address | PSG Hospitals,Coimbatore-4 |
| Blood Group | 'AB' Positive |
| Area of research | Pharmaceutical Care |

Participation in conference/ symposia/ training

Two day Faculty development program on Training in Learning Management system using MOODLE by PSG IM on 19th &11th June 2013
As a Chairperson for Pharmacovigilance related employment opportunities in the National level seminar on widening the Horizons for Practicing Pharmacists in Industry and Hospitals on 5th & 6th July 2013 at PSG COP, sponsored by CSIR & TN Dr MGR Medical university
Workshop titled Effective storage of Biological Products and Vaccines with inventory management on 30th August 2014 by Department of Pharmacy Practice & IPA-CPD, Mumbai at PSG COP
Continuing Professional development programme111 for community and hospital pharmacists titled creating awareness and emphasizing pharmacist role in TB control- DOTS therapy on 25th March 2015 at PSG COP
International conference on Roles & Responsibilities of Pharmacist on Chronic Disease Management, Adverse Drug Reaction and Therapeutic Drug Monitoring on 24th & 25th April 2015 sponsored by Department of Science & Technology at PSG COP
Talk on Pharmaceutical care/Pharmacy practice : National conference on pharmacovigilance& Pharmacoeconomics; 27th June 2015( PSG College of Pharmacy
Workshop on Teaching Learning & Evaluation on 22nd October 2015 by Department of Medical Education at PSGIMSR
Workshop on education technology on December 4th 2015 at PSG center for Academic & Research Excellence
Continuing professional development programme-1V for community and Hospital pharmacists titled on " Creating awareness and emphasizing Pharmacist Role in TB control-DOTS Therapy conducted on March 9th 2016 organized by Department of pharmacy practice PSG CP, RNTPC- Coimbatore and (IPA-CPD), Mumbai
Workshop on "Role of pharmacist in clinical Research" on 25th June 2016 by Novartis Healthcare pvt ltd , Hyderabad at PSG college of Pharmacy, Coimbatore
Effective use use of Moodle-A learning management system on September 10th 2016 by PSG CARE
National conference on medication management and use " held on 6th & 7th October 2016 at Sri Ramachandra university as an evaluator
Effective use of Moodle-A learning management system on November 7th 2016 by PSG CARE
Techniques & Strategies for Effective teaching on March 23rd 2017 by PSG CARE
Talk on clinical research on 24-3-2017 in the Novartis wokshop held at PSG College of Pharmacy

Publication details

Impact of clinical pharmacist interventions on dyslipidemic patients and its outcomes in a multispecialty teaching hospital, in IJPR vol 3,issue 2, march 2013
A study on patients' awareness, recognition management and prevalence of
hypoglycemic episodes in type 2 diabetes mellitus in a tertiary care hospital vol 8
issue 2 March-April 2015
Assessment of osteoporosis and Anemia risk in patients on anticonvulsant therapy, vol 8, issue 7,2016, international journal of pharmacy & pharmaceutical sciences
Efficacy of Sorafenib therapy in patients with advanced hepatocellular carcinoma in Indian population. Vol 2,2016, Hepatoma Research.
Improving antibiotic prescribing pattern and assessment of co-morbidities associated with respiratory tract infections.vol 9(2)2017, International Journal of Pharmacy and Pharmaceutical Sciences
A prospective study on geriatric prescribing pattern and medication adherence in a tertiary care hospital.vol10(12)2017,Asian Journal of Pharmaceutical and clinical research
Effect of medication related interventions on improving medication adherence in patients with type 2 Diabetes mellitus. Vol11(1)2018,Asian Journal of pharmaceutical and clinical Research
A prospective comparative observational study on safety, efficacy and cost effectiveness of insulin and their analogues Vol10(7)2018, International Journal of Pharmacy and Pharmaceutical Sciences
A Study on Carvedilol versus Metoprolol in the Management of Atrial Fibrillation in Post Operative Coronary Artery Bypass Graft Surgery Patients

Project details:

Pharm D Projects

Prevalence, Comparison And Awareness Of Hypoglycaemia In Patients With Type 2 Diabetes.2013
Effect Of Pharmacist –Provided Health Literacy For Patients On Oral Anticoagulation Therapy 2014
Impact Of Pharmaceutical Care And Health Literacy On The Quality Of Life In Post Operative CABG Patients. 2014
Assessment of osteoporosis and anemia risk in patients on anticonvulsant therapy 2015
Efficacy of Sorafenib therapy in patients with advanced hepatocellular carcinoma in Indian population 2015
A Prospective Study On Geriatric Prescribing Pattern And Medication Adherence In A Tertiary Care Hospital 2016
Effect Of Medication Related Educational Interventions On Improving Medication Adherence In Patients With Type 2 Diabetes Mellitus 2016
Views Of General Public And Creating Awareness On The Role Of Pharmacist In Health Care 2017
A Study On Carvedilol Versus Metoprolol In The Management Of Atrial Fibrillation In Post Operative Coronary Artery Bypass Graft Surgery Patients. 2017
Alteration in renal function following loop diuretics in patients with decompensated heart failure 2018

Bpharm Projects

A Study to Evaluate And Assess Hypoglycaemia In Patients With Type 2 Diabetes 2013.
Current prescribing trends of Anti-diabetic drugs in type-2 Patients 2016
A study on Drug Induced Steven Johnson syndrome 2017
A study on current usage of NSAID s in the general medicine department of a tertiary care hospital 2018

Mpharm Projects

A Prospective comparative study on safety, efficacy and cost effectiveness of insulin and insulin analogues. 2013
Effect On Quality Of Life In The Management Of Asthma And Chronic Obstructive Pulmonary Disease Patients 2014
Role Of Pharmacist To Improve Inhalation Pattern In Asthma And COPD Patients 2015
Role of Pharmaceutical care in the safe practice of respiratory medicines 2016
Identification of drug related problems and evaluation of clinical pharmacy service in geriatric patients with polypharmacy 2016
A retrospective study on prescribing patterns and cost analysis of proton pump inhibitors 2017
A study on prophylactic antibiotic therapy on patients undergoing surgery in a tertiary care hospital
A retrospective study on clinical outcome of glucagon like peptide – 1 analogues and dipeptidyl peptidase – 4 inhibitors in type 2 diabetes mellitus patients. 2018
A prospective and retrospective study of Tenecteplase in Acute Ischemic Stroke 2018

Conference/ Workshop/ Symposium/ Seminar organized

Conducted University Accredited CPE program from January 2015 till July 2018 at PSG COP as organizing secretary
World cancer day recognized on February 4th 2016 in collaboration with the Department of Oncology
A two day public health awareness programme at Karadivavi and Vedapatti village on 17.06.2016 and 18.06.2016
The 'World Pharmacist Day Sep 25th 2016'
A diabetes awareness and health check up camp on Monday 14th November 2016 at PSG Urban Health Centre, Pioneer Mills Road, Peelamedu
Conducted a Medical camp as a part of NSS camp 2017 at Ajjanur village on 11//1/2017. Screening was done for Type 2 Diabetes mellitus and anemia. BMI was calculated for the same
World cancer day recognized on February 4 2017 in collaboration with the Department of Oncology
Conducted Student's forum on 21st April 2017 at PSG college of Pharmacy as Convener
"A Work shop on Research" on 11th December 2017

Membership of Prof. bodies/ Institutional committees

Member of IQAC from 2016
Academic committee member from2015
Editorial board member of Institutional Journal IJPR from 2016
Interview panel member for non- teaching pharmacy from 2017

Dr. K. Umaa

M.Pharm., Ph.D.,

Professor

| | |
| --- | --- |
| Field of Specialization | Pharmaceutical Chemistry |
| Office Contact Details | PSG College of Pharmacy, Peelamedu, Coimbatore-04 |
| Phone No | 2570170 ext (5842) |
| Email | umaagangadhararao@gmail.com |
| Residential Address | 3/412 C, Rajagopal Nagar, Kuniamuthur, Coimbatore-641008. |
| Blood Group | B +ve |

Area of research

Identification, characterization and development of New Chemical Entities for MDR-TB
Computational techniques in Drug Discovery (QSAR, Molecular Docking)

Participation in conference/ symposia/ training

Poster evaluator in the seminar on the 'Current Trends in Herbal Science' on 26th September, 2015 organized by PSG College of Pharmacy.
'Work shop on Teaching Learning Process' on 22nd October, 2015 at PSG IMSR.
Workshop on 'Teaching Learning Evaluation' in December, 2015
Two day National Workshop on 'Newer synthetic approaches for drugs and drug intermediates' in JSS College of Pharmacy, Ooty on 19th and 20th of February, 2016.
'Work shop on Mentoring' by PSG CARE in June 2016.
Chair person in the seminar on the 'Current perspectives in novel drug delivery system', held on 16th & 17th June, 2017 funded by DST, ICMR at PSGCP
Presented 'Design, synthesis, invitro anti-mycobacterial screening and molecular docking studies of novel benzimidazolyl hydrazides' – in the 21st CSRI National Symposium in Chemistry, Hyderabad, held between 14th and 16th July, 2017.
Work shop on 'Sensitizing the Pharmacy faculty about the PCI New Regulations & Syllabus for B.Pharm & M.Pharm', on 30th of August, 2017 at The TN Dr. M G R Medical University, Chennai.
Presented a talk on the "Latest advancements in drug design & QSAR", for a "Continuing Education Programme", in The TIPS Global Institute of Health care, Coimbatore on 9th September, 2016.
Participated in a work shop in 'Effective use of Moodle – A Learning Management System' under PSG CARE on 2nd November, 2016.
Presented a guest lecture on the 'The Overview of Drug Action & Drug Design', in The Indian Public Global Institute of Health care, Coimbatore on 8th September, 2017.
National seminar by IPA on 'Industrial Pharmacy, Quality Control & Assurance and Management', on 5th & 6th May, 2018 at College of Pharmacy, SRIPMS, Coimbatore.
Guest lecture on 'Green Chemistry and its techniques" in PSGR Krishnammal College for Women on 29th May, 2018.

Publication details

Bhat A.R, Umaa K. A synthesis and valuation of mannich bases of certain novel nitro hydroxy 1, 2- pyrazolines. Ancient Science of Life. 2004; 24 (2):42-49.
Krishnakumar K, Bhat AR, Umaa K, Chandrasekharan AK. Synthesis and biological screening of mannich bases of certain novel 1, 2- pyrazolines. Advances in Plant sciences. 2005; 18 (11): 641-648.
Bhat AR, Umaa K, Chandrasekharan AK. Synthesis and valuation of mannich bases of certain novel fluoro hydroxy 1, 2 – pyrazolines. The antiseptic – a Journal of medicine and surgery. 2005; 102, 568-572.
Umaa K, Jalaja S. Menon. Scenario of interferons against terrifying viruses. The antiseptic – a Journal of medicine and surgery. 2005; 102: 41-45.
Umaa K, Bhat AR, Kannan K. Synthesis, Characterization and Biological screening of novel 1-substituted benzimidazoles. Pharmakine. 2008; 21, 28-33.
Umaa K, Kannan K. Synthesis and comparative anti-mycobacterial evaluation of certain substituted benzimidazoles. international Journal of Chemical Sciences, 2009; 7(1): 80-86.
Umaa K, Ramanathan M, Krishnakumar K, Kannan K. Elucidation and evaluation of substituted pyrimidines. Asian Journal of Chemistry. 2009; 21:6674-6678.
Gopinath Gangadhararao, Umaa K, Ramanathan M, Kannan K. A Global Overview of Tuberculosis. The antiseptic – a Journal of medicine and surgery. 2010; 107:402-404.
Dineshkumar B, Bhat AR, Krishnakumar K, Suresh S, Umaa K. Nanofibres : Potential applications in wound care management. Advances in Polymer Science and Technology: An International Journal 2012; 2(3): 30-32.
Dineshkumar B, Bhat AR, Krishnakumar K, Suresh S, Umaa K, Balakumar K, Tamilselvan N, Hariprasad R. Musa sapientum L leaves: Synthesis of silver nanoparticles. International Journal of Nanomaterials and Biostructures 2012; 2(3): 22-24.
Umaa K, Bhat AR, Krishnakumar K. Facile synthesis and antimycobacterial evaluation of novel chloro diaryl substituted imidazoles using tosyl methyl isocyanide. Journal of Pharmacy Research. 2012; 5(6):3096-3098.
Umaa K, Kavithamani A, Maida Engela SE, Geetha G. Quantitative structure activity studies on the anti-mycobacterial potentials of certain chalcone derivatives. International Journal of Research in Organic Chemistry. 2013; 3(2): 6-9.
Umaa K, DineshkumarB, Krishnakumar K, Kannan K. Synthesis, Characterization and antifungal evaluation of acetyl 2-methyl benzimidazolyl amino derivatives. International Journal of Chemical Science and Technology. 2013; 3(1), 9-14.
Umaa K, Sudharani S, Sangeetha G, Maida Engels S.E. Prediction of physiochemical parameters for anti-tubercular potentials of mannich and Schiff bases. Journal of Chemical and Pharmaceutical Research. 2013; 5(4): 52-59.
Dineshkumar B, Joseph Cherian, David Paul, Anish John, Umaa K. High performance thin layer chromatography technique: peptides from green coconut water. Journal of Natural Pharmaceuticals. 2013; 4(2): 44-47.
Krishnakumar K, Bhat AR, Umaa K. Anti-inflammatory studies of novel methyl amino and hydrazine benzimidazoles on carrageenan induced paw edema in rats. 2013; 4(1): 53-62.
Umaa K, Abinaya V, Gokul G, Sai priya G. A Review on clinical trials of natural polyphenol nutraceuticals in the management of Diabetes. Journal of Pharma Innovative Research. 2015; 2(1):34-40.

Project details

Received a grant of 7.92 Lakhs from the UGC for the project titled, "Sequential Optimization for Anti-tuberculosis drug development".

Conference/ Workshop/ Symposium/ Seminar organized

Received Rs.30,000 grant from CSIR, for a two day national symposium on "Herbal Therapy in Viral Infections- A Perspective" co-sponsored by Council for Scientific and Industrial Research and organized by PSG College of Pharmacy, on 9th and 10th, July, 2004.
Co-ordinator for one day work shop on "Computer Assisted Drug Design", Sponsored by Dept. of Science and Technology and organized by PSG College of Pharmacy on 15th Feb, 2006.
Co-ordinated a national conference on "Microwaves-Application to Organic Synthesis and Natural Products" sponsored by CSIR on 1st & 2nd, July, 2005
Co-ordinator for the two day national seminar on "Stereochemical Adventures in the Synthesis of Challenging Drug Molecules", sponsored by Council for Scientific and Industrial Research and organized by PSG College of Pharmacy on 3rd and 4th, July, 2009.
Co-ordinator for the National level conference on 'Bio analytical techniques' sponsored by DRDO on 31st Nov & 1st Dec, 2012.
Received 1 Lakh grant from the Dept of Science & Technology for a Two day national conference on "Approach of Green Chemistry in Pharma, Chemical and Material Science Sectors – A Perspective" held between 30th and 31st October, 2015.
Organizer of a Two day National Conference on 'Biosensors – A Pharmaceutical Perspective' on 27th & 28th April, 2018.

Awards received

Woman achievement award on Women's day, 8th March, 2018 given by PSG Institutions.
Awarded 1st place for Poster Presentation on 'Insilico anti-tubercular design of novel benzimidazole derivatives', in a national conference organized by PSG CP and co-sponsored by DST held in October, 2015.

Guidance details:

Virtual screening of certain heterocyclic compounds.
Synthesis of newer benzimidazole derivatives and their anti microbial activities.
Synthesis, characterization and anti bacterial activity of certain oxadiazole derivatives of PABA & PAS.
Prediction of physiochemical parameters for anti-mycobacterial potentials of mannich bases.
Quantitative structure activity studies on the anti-mycobacterial potentials of certain chalcone derivatives.
TSAR studies of substituted imidazolinones and amino pyrimidines as potential anti microbial agents.
In-silico anti-tubercular design of novel benzimidazole compounds.
Investigation of Aloe vera formulations against certain types of bacteria.
Anti- mycobacterial potentials of Ocimim sanctum on H37 strain.
Synthesis and characterization of novel pyrazoline derivatives.
Synthesis and characterization of Ubiquinone-O.

Membership of Prof. bodies/ Institutional committees

Life member of Association of Pharmaceutical Teachers of India (APTI)
Life member of Indian Pharmaceutical Graduate Association (IPGA).
Life member of Indian Pharmaceutical Association (IPA)

Dr. S.M. Habibur Rahman

M.Pharm., PhD.,

Professor/ Associate Director (Research)

| | |
| --- | --- |
| Field of Specialization | Pharmaceutics |
| Office Contact Details | PSG College of Pharmacy,Peelamedu, Coimbatore-641004. |
| Ph.No | 9894229078 |
| Email | hablet1@gmail.com |
| Residential Address | Flat 305,Ultras Golden Residency, Karuppanna Gownder Layout, Sengaliappan Nagar, Coimbatore-641004 |
| Blood Group | B Negative |
| Area of research | Nutraceuticals Bioavailability, Pharmacokinetics,PKPD Modeling |

Participation in conference/ symposia/ training

Resource Person

Invited Speaker – Lipid Based Drug Delivery Systems an Overview, National Conference on current perspectives in novel drug delivery systems, PSGCP, June 16-17, 2017.
Resource Person –Pharmacokinetic – Basic calculus, Clinical Pharmacokinetics –basic principles and its application, Southern Regional Indian Pharmacological Socieety, PSG IMSR, November 12-14, 2009.

Presentations in Abroad

Development of Curcumin Solid Lipid Nanoparticle and Assessment of Pharmacokinetics and Brain Availability in Wistar Rats, World Nutraceutical Conference & Expo, July 11-13th, 2015 at Philadelphia, USA

Presentations in International & National Conference

Enhancement of Bioavalibility of BCS Class II Drugs Using Solid Lipid Nanotechnology, International Conference on Drug Delivery 2014 at PSG College of Pharmacy, Coimbatore
In vitro release kinetic study of Tetra Hydro Curcumin (THC) loaded Solid Lipid Nanoparticle, International Conference on Drug Deliver y 2014 at PSG College of Pharmacy, Coimbatore
Investigating Pluronic F68 and Pluronic F127 as surfactants in Solubility of Furosemide Nanocrystals, International Conference on Drug Delivery 2014 at PSG College of Pharmacy, Coimbatore
Assessment of Pharmacokinetics and Brain Availability of Curcumin Loaded Solid Lipid Nanoparticle in Wistar Rat, National Conference on Challenges in Drug Delivery Research, 8 & 9th, November, 2013.
Investigating Solid Lipid Nanotechnology in Curcumin Pharmacokinetics and Bioavailability, National Conference on Experimental Pharmacology, PSG College of Pharmacy, Coimbatore. June 7-8 2012
Novel, High Sensitive, Validated HPLC Bioanalytical Method for Simultaneous Quantitation of Curcuminoids Pharmacokinetic Study, National Symposium On Mathematical Modeling In Drug Development And Drug Delivery (MMDD 2012) conducted by Ultra College Of Pharmacy, Madurai
Investigation of solid lipid nanoparticles for nutraceuticals bioavailability enhancement and pharmacokinetic studies, National Symposium On Mathematical Modeling In Drug Development And Drug Delivery (MMDD 2012) conducted by Ultra College Of Pharmacy, Madurai
Evaluation of sterotex HM in optimization of curcumin loaded solid lipid nanoparticles, 2nd International conference and exhibition on regulatory affairs, 23-24th November, 2012 at Hyderabad International convention centre, India.
Evaluating aloe vera powder as bioavailability enhancer in 3rd World Congress on Bioavailability and bioequivalence at Hyderabad in March 2012
Interspecies scaling of curcumin pharmacokinetics using allometric principle, Indian Pharmacological Society Conference, Manipal in December 2011
Development of Metaxalone Solid Lipid Nanoparticle for Bioavailability Enhancement 63rd Indian Pharmaceutical Congress, Bangalore in December 2011
Formulation and evaluation of curcumin pharmacosomes, International Conference on Drug Delivery, January 29-30, 2010
Study on the influence of aloe vera on curcumin release profile. Presented in 59th IPC, Varanasi.
Study of Papaya pulp powder as tablet disintegrant and its in vitro evaluation presented in 58th IPC, Mumbai.
Evaluation of Alzheimer's in hyper tension and diabetes mellitus type-II using Alzheimer's disease assessment scale. (ADAS) presented in 58th IPC, Mumbai
Pharmacokinetics and CYP Enzyme Activity Studies of Curcumin, SRIPS, PSG IMSR, November 12-14, 2009, Coimbatore
Densitometric thin layer chromatographic estimation of momordicoside content in bitter melon fruits. Presented in National seminar on recent developments in Pharma research at MNR college of Pharmacy, Hyderabad during Feb 2009.
A Technical Note on the Effect of Biovailability Enhancers in Formulation of Sustained Release Matrix Tablets, INDO-US Conference, Nalgonda, Nov 2008
Contribution of P-Glycoprotein Inhibitors in Curcumin Delivery. Presented in National Seminar on Cancer Biology and development of new chemical entities, Nov 20 – 22, 2008, PSG College of Pharmacy, Coimbatore.
Formulation and evaluation of curcumin sustained release matrix tablets. Presented in 59th IPC, Varanasi
Study on the influence of momordica charantia in physical properties and release profile of curcumin. Presented in TIPS 2007. Annamalai University, Chidambaram.
Design and in vitro evaluation of curcumin floating microspheres. Presented in 23rd IPGA, Chennai.

Publication details

R Nithya, Karthik Siram, Ranganathan Hariprasad, Habibur M Rahman, Development and In Vitro Characterization of Paclitaxel Loaded Solid Lipid Nanoparticles, Current Nanomedicine; 2018(in press)
Karthik Siram, Chellan Vijaya Raghavan, Gregory Marslin, Habibur Rahman, Divakar Selvaraj, Krishnamoorthy Balakumar, Gregory Franklin, Quillaja saponin: a prospective emulsifier for the preparation of solid lipid nanoparticles, Colloids and Surfaces B: Biointerfaces 147; 2016 [Impact Factor: 4.295]
Karthik Siram, Gregory Marslin, Chellan Vijayaraghavan, Krishnamoorty Balakumar, Habibur Rahman, Gregory Franklin, A brief perspective on the diverging theories of lymphatic targeting with colloids, International Journal of Nanomedicine 2016:11 1–6. [Impact Factor: 5.034]
Karthik Sridhar, Habibur Rahman, Alejandro Sosnik, Uditta Mukherjee, Tamilselvan Natarajan, Karthik Siram, Balakumar Krishnamoorthy, Production of irbesartan nanocrystals by high shear homogenisation and ultra-probe sonication for improved dissolution rate, Current Drug Delivery, Volume 13, 2016 [Impact Factor: 2.516]
Habibur Rahman, Telny Thomas Chungath, Kuppusamy Selvakumaraswamy, CHnadrasekar R., Aloe vera Mucilage as Solubility Enhancer in Tablet Formulation, Journal of Nutrition & Food Science, Vol 6(5); 2016 [Impact Factor: 1.49]
Balakumar Krishnamoorthy, S. M. Habibur Rahman, N. Tamil selvan, R. Hari prasad, M. Rajkumar, M. Siva selvakumar, K. Vamshikrishna, Marslin Gregory, Chellan Vijayaraghavan, Design, formulation, in vitro, in vivo, and pharmacokinetic evaluation of nisoldipine-loaded self-nanoemulsifying drug delivery system, J Nanopart Res (2015) 17:34 [Impact Factor: 2.278]
Karthik Siram, Vijaya Raghavan Chellan, Tamilselvan Natarajan, Balakumar Krishnamoorthy, Habibur Rahman SM, Vamshi Krishna
Karanam, Siva Selva Kumar Muthuswamy & Hari Prasad Ranganathan, Solid lipid nanoparticles of diethylcarbamazine citrate for enhanced delivery to the lymphatics: in vitro and in vivo evaluation, Expert Opinion Drug Delivery (2014) 11(8) [Impact Factor: 5.687]
S. M. Habibur Rahman, M Ramanathan, V Sankar, Preparation, characterization and in vitro cytotoxicity assay of curcumin loaded solid lipid nanoparticle in IMR32 neuroblastoma cell line, Pak. J. Pharm. Sci, 27 (5): 2014;1281-1285 [Impact Factor: 0.947]
S.M.H. Rahman, T.C. Telny, T.K. Ravi and S. Kuppusamy, Role of surfactant and pH on dissolution profile of curcumin, Indian Journal of pharmaceutical Sciences 71(2): 2009; 139-142. [IF: 0.338]
Krishnamoorthy Balakumar, Chellan Vijaya Raghavan, Natarajan Tamil Selvan, S.M. Habibur Rahman, Self emulsifying drug delivery system: Optimization and its prototype for various compositions of oils, surfactants and co-surfactants, Journal of pharmacy research 6 (2013) 510 -514
Peter Christoper G.V, Preethy Ani Jose, Karthick P. Habibur Rahman S.M. Formulation, Evaluation and in-vitro release studies of aripiprazole orally disintegrating tablets, Journal of Pharmacy research, Mar 2012, 5(4), 2117-2121
Habibur Rahman M*, Telny Thomas Chungath, Kuppusamy Selvakumaraswamy, Investigation of aloe vera mucilage as solubility enhancer, Inventi Impact: Novel Excipients, Vol. 38 (12): 2012,
Joycy Persis*, Subal Debnath, Habibur Rahman, Jk Nayanar, Sy Manjunath,  Product development, scale up and validation of lansoprazole delayed release capsules Inventi Impact: Pharmaceutical Process Development, 39(12): 2012
Subal Debnath, S.M. Habibur Rahman, Gajanan Deshmukh, N. Duganath, C. Pranitha and A.Chiranjeevi, Antimicrobial Screening of Various Fruit Seed Extracts, Pharmacognosy Journal 1(19): 2011. (83-86)
M. Kannadasan, Subal Debnath, Nilesh P. Babre, P. Parameshwar, V.V. Rajesham and Habibur rahman, Anti-Epileptic Activity of the Hydro-Alcoholic Extract of Erythrina fusca Lour. Bark through Behavioral Studies against the Animal Models of Epilepsy, Research J. Pharm. and Tech. 4(2): 315, 2011.
Habibur Rahman, Telny Thomas Chungath and selvakumaraswamy Kuppusamy Comparative evaluation of HPMC K100 and poloxamer 188 – influence on release kinetics of Curcumin in floating microspheres, RJPBCS 1(2): 2010; 28 – 34.
Subal Debnath, S. M. Habibur rahman, Nilesh Babre, Y. S. Manjunath and N. Duganath, Development and charaxterization of micro-sponge delivery system for silver sulfadiazine, International Journal of Pharma Research 1 (2): 2010; 40-44
H Rahman, Telny Thomas Cunganth and S Kuppusamy, Influence of Momordica charantia in physical properties and release profile of curcumin formulations Biosciences, Biotechnology Research Asia 5(01): 2008.
Prudence AR, Arul Kumaran KSG, Habibur Rahman, Sathya Prabha G, Lavanya S, Drug Prescribing Pattern in a Maternity Care Unit, IJHP 45: 2008; 153-157.

Project details

Principal Investigator in a project entitled "Development of Solid Lipid Carrier to target brain cells for neuroprotective action of curcumin" funded by AICTE, New Delhi (6.3 lakhs) 2011-2013
Co investigator in a project "Standardization, validation and development of herbal formulation for the treatment of neuropathic pain" funded by PRDSF, DST New Delhi (51.2 lakhs)
Co investigator in a project "Extraction of Melanin from Hair for Making Camouflage and
Developing Pigment for Tattoo" funded by Vitiligo Research Foundation, USA ($10, 000)
TNSCST funded project "Development of SLN for enhanced oral bioavailability of Tetrahydrocurcumin (THC) and prediction of pharmacokinetic parameters" (Rs. 10,000)
TNSCST funded project "Enhancement of bioavailability of Taxol using Solid lipid nanoparticle for targeting cancer cells" (Rs. 6,000)

Conference/ Workshop/ Symposium/ Seminar organized

Organised National level workshop on Nano Drug Delivery Techniques

Book details

"Nanomaterials in Drug Delivery: existing scenario and potential scope" in the Multi Volume Book Nanobiomaterials in Drug Delivery – Applications of Nanobiomaterials Vol 9 Ch. 9; 197-228. Elsevier
"Evaluation of HPMC and Poloxamer in Curcumin Floating Microspheres" in LAMBERT Academic Publishing, Germany.

Patent details-Nil

Awards received

Travel Grant awarded from ICMR to attend World Nutraceutical Conference and Expo" during July 13 to July 15, 2015 at Philadelphia, USA
Travel Grant awarded from DBT and DST to attend 5th World Congress on Bioavailability and Bioequivalence Pharmaceutical R & D Summit, Baltimore, USA
Awarded Best Individual Participant in SKILL TEST 2010 structured by pharmainfo.net, Canada (online competition held during Nov 2009 – Nov 2010)
Best Poster Presentation Award Development and evaluation of stable nanolipid carrier loaded resveratrol and assessment of sun protection factor of cream loaded NLC in National seminar on recent trends in biotechnology, Jun 21-22, 2018 at RVS College of pharmaceutical sciences, Coimbatore.
Best Poster Presentation Award Development of Niacinamide loaded NLC and to study the impact of lipid digestion in National seminar on recent trends in biotechnology, Jun 21-22, 2018 at RVS College of pharmaceutical sciences, Coimbatore.
Best Poster Presentation Award Investigation of Lipid based Nanoparticles of Herbal Metabolite (Tetrahydrocurcumin) and Assessment of Pharmacokinetics in Wistar Rats in National Seminar on Recent Trends in Pharmaceutical Sciences- "PHARMA ANALYTICA 2K18, Jan 19-20, 2018 at National College of Pharmacy, Kozhikode.
Best Poster Presentation Award Assessment of Pharmacokinetics and Brain Availability of Curcumin Loaded Solid Lipid Nanoparticle in Wistar Rat in National Conference on Challenges in Drug Delivery Research, 8-9th Nov, 2013 at Amrita School of Pharmacy, Kochi.
Best Poster Presentation Award In vivo Evaluation of Curcumin Loaded Solid Lipid Nanoparticle Pharmacokinetics and Bioavailability Studies in Rabbit at International Congress of Pharmacy Graduates, 6-7th October, 2012 at Chettinad Health City, Kelambakkam, Chennai.
Best Oral Presentation Award (First Prize) for Investigating Solid Lipid Nanotechnology in Curcumin Pharmacokinetics and Bioavailability in National Conference on Experimental Pharmacology, PSGCP, Coimbatore. June 2012.
Best Poster Presentation Award (First Prize) Novel, High Sensitive, Validated HPLC Bioanalytical Method for Simultaneous Quantitation of Curcuminoids Pharmacokinetic Study in National Symposium on Mathematical Modeling in Drug Development and Drug Delivery (MMDD 2012), 28-29th March, 2012 at Ultra College of Pharmacy, Madurai

Ph. D Guidance details-Nil

Membership of Prof. bodies/ Institutional committees

Core committee member in Population Approach Group of India (PAGIN)
Member of College Admission Committee and involved in the orientation program for the first year students
Convener – Students Welfare Committee (Student Council) – Cultural Meet, Sports Meet, Annual College day, Science Club, Music Arts & Dance Club.
Faculty In Charge for Journal Club, Department of Pharmaceutics, PSGCP
Faculty In Charge for Research Committee, Department of Pharmaceutics, PSGCP
Organiser & Scientific Committee member of International Conference on Drug Delivery (ICODD) organised by department of pharmaceutics, PSGCP
Member of American Association of Pharmaceutical Scientists

Journal/ Book reviewer/ Course material

Editorial Advisory Group

Cambridge Scholars Publishing
SEJ Biopharmaceutics

Reviewer

Screener/Reviewer for scientific abstracts in 2017 & 2018 American Association of Pharmaceutical Scientists Conference (AAPS) Annual Meeting & Exposition
European Journal of Pharmaceutical Sciences (Elsevier)
Pharmaceutical Biology (Taylor & Francis)
Journal of Polymer Science (Wiley)
Journal of Nanoparticle Research (Springer)

Abroad Visits-USA

Dr. S. Subramanian

M.Pharm., Ph.D.,

Professor

| | |
| --- | --- |
| Total Experience | 18 years of total experience out of which 11 years of teaching and 7 years of industrial |
| Field of Specialization | Pharmaceutics |
| Office Contact Details with Ph.No | |
| Mobile Number | 9486220270 |
| Email | subbu3j@gmail.com |
| Residential Address | 46, G-2, Yogiram Surath Kumar Nagar, Ganapathy,Coimbatore - 641006 |
| Blood Group | B+ve |
| Area of research | Nanotechnology Drug Delivery & Transdermal Therapeutic System. |

Awards & Recognition

Resource Person

Delivered a speech on "Nano Particulate Drug Delivery for Anticancer Drugs" on 04th May 2018 in Faculty Development Programme at Karpagam Academy of Higher Education, Coimbatore-641004.
Delivered a speech on "Overview on Bioavailability Approaches" on 16th June 2017 in National Conference on Current Perspectives in Novel Drug Delivery Characterization Techniques at PSG College of Pharmacy, Coimbatore-641004.Systems at PSG College of Pharmacy, Coimbatore-641004.
Delivered a speech on "Exploring Texture Analyzer for Novel Drug Delivery Research" on 12th August 2016 in National Level Workshop on Nanomaterials.
Approved research guide for Ph.D in The Tamilnadu Dr.M.G.R Medical University, Chennai.

Participation in conference/ symposia/ training

Participated one day workshop on "Emotional Intelligence for Personal and Professional Success" on 23rd September 2017 in PSG Center for Academic Research and Excellence, Coimbatore-641004.
Attended two days workshop on "Dissolution, Bioequivalence and IVIVIC" on 25th & 26th March 2017 in Sri Ramachandra University, Chennai – 600116.
Attended one day workshop on "Effective use of Moodle-A L earning Management Systemheld on 2nd November 2016 in PSG Center for Academic Research and Excellence, Coimbatore-641004.

Publication details

Published a paper entitled "Formulation and Evaluation of Clopidogrel bisulphate Loaded Transdermal Patch for Anti-platelet Activity " S.Subramanian (as author), Senith SK "International Journal of Research in Pharmaceutical Sciences" 9 (1) 2018: 25-29. Impact Factor: 0.37
Published a paper entitled "Bilayer Tablets: Atorvastatin Calcium Nanoparticles and Clopidogrel Bisulphate Sustained Release Formulation" S.Subramanian (as author), J.Tharini in "Asian Journal of Pharmaceutics" 11(2) 2017:112-117. Impact Factor: 0.75) (Thomson Reuters Indexed)
Published a paper entitled "Preparation, Evaluation and Optimization of Atorvastatin Nanosuspension Incorporated Transdermal Patch" S.Subramanian (as author), M.Keerthana Devi, C.Vaiyana Rajesh, M.Sakthi, G.Suganya, S.Ravichandran in "Asian Journal of Pharmaceutics" 10 (4) 2016: 487-491. (Impact Factor: 0.75) (Thomson Reuters Indexed)

Project details

UG Students: Guided 27 students & 9 titles.
PG Students: Guided 16 students & 16 titles.

PG thsesis titles

Atorvastatin Calcium Immediate Release Tablets by Self Fabricated Tablet Mold in 2018.
CODESTM Drug Delivery: Capecitabine in the Management of Colorectal Cancer in 2017.
Self Nanoemulsifying Tablets of Telmisartan – Development, Characterization, Efffect on Dissolution in 2017.
Atorvastatin Calcium loaded block co polymer micelles: Development, Characterization, Evaluation and Effect on Bio availability in 2017.
Enhancement of Bioavailability – Bilayer Tablets of Atorvastatin Calcium by Nanoparticulate Technology and Clopidogrel Bisulphate by Matrix Type Sustained Release Formulation in 2016.
Formulation and Evaluation of Capecitabine Nanoparticles Loaded Suppositories for Targeting Colorectal Cancer by Ionic Gelation Technique in 2016.
Formulation and Evaluation of Clarithromycin Immediate Release Film Coated Tablets in October 2015.
Preparation, Evaluation and Optimization of Atorvastatin Incorporated Transdermal Patch in October 2015.
Formulation Development & Evaluation of Betacyclodextrin Controlled Release Matrix Tablets of Acyclovir in 2015.
Formulation and Evaluation of Olmesartan Medoxomil Nnaoparticles by Ionic Gelation Technique Loaded in Matrix Type Transdermal Drug Delivery Systems in 2015.
Development of Candesartan Cilexetil Solid Lipid Nano Particulate Drug Delivery for Enhancement of Oral Bioavailability in 2014.
Supersaturated Self Nanoemulsifying Tablets of Atorvastatin- Development, Characterization, Evaluation and Effect on Bioavailability in 2014.
Formulation of Olmesartan Nanoparticulate Drug Delivery for Enhancement of Oral Bioavailability by Ionic Gelation Technique in 2013.
Rational Design for Nano Crystallization of Tamsulosin Hydrochloride in 2012.
Formulation and Evaluation of Fexofenadine Hydrochloride Transdermal Patches in 2011.
Enhancement of Bioavailability of Rosuvastatin Calcium by using Nanocrystal Technology in 2010.

Membership of Prof. bodies/ Institutional committees

Life member in APTI.
Member for Doctoral Committee for Ph.D scholar in Vels Institute of Science , Technology and Advance Studies, Chennai.

Journal/ Book reviewer/ Course material

Reviewer for Recent Patents on Inflammation & Allergy Drug Discovery-Bentham Science Publishers.
Reviewer for International Journal of Pharma Research.

Dr. S.E. Maida Engels

M. Pharm., PhD.,

Associate Professor

| | |
| --- | --- |
| Field of Specialization | Pharmaceutical Chemistry |
| Office Contact Details | Department of Pharmaceutical Chemistry,PSG College of Pharmacy, Peelamedu, Coimbatore. |
| Ph. No | +91 422 4345841; Etn-5842 |
| Email | maidaengelsse@psgpharma.ac.in |
| Residential Address | 71A, Nehru Nagar, VK Road, Peelamedu, Coimbatore. |
| Teaching experience | 15 yrs |
| Blood Group | AB +ve |
| Area of research | Drug design, Synthesis of drug molecules |

PhD Project:Design, synthesis, characterization and biological evaluation of some novel pancreatic lipase inhibitors.
Worked as a project trainee for one year (Aug 2004 – Aug 2005) at Bio Organic Chemistry Lab, National Institute of Immunology, New Delhi.

Participation in conference/ symposia/ training

Attended National Level Conference on "Biosensors – A pharmaceutical Perspective" PSG College of Pharmacy, 2018.
Presented E poster and awarded best  E poster presentation titled "Synthesis, pharmacological screening and docking studies of some N-substituted phenacyl thio carbamates as anti-obesity potentials" in the SERB-DST sponsored National symposium on  "Exploring the advances and challenges in Green and Protein Chemistry: Industry and Academia perspectives" during 9th &10th March, 2018 held at JSS College of Pharmacy, Ooty.
Workshop on 'Techniques for effective teaching' on 23rd March 2017 organized by PSG CARE.
National Level Workshop on "Effective use of Moodle – A learning Management System" PSGCARE – 2016.
Presented a paper titled "Exploration of Anti Obesity Potentials of some Active Phytoconstituents: An In Silico Docking Approach" at the UGC sponsored National Seminar on Bio-cheminformatics held by the Department of Bioinformatics, Bharathiar University in Feb 2016.
National Level Conference on " Approach of Green Chemistry in Pharma, Chemical and Material Science Sectors – A Perspective – PSG College of Pharmacy, 2015,(DST)
Attended a workshop on molecular modeling and Drug Discovery organized by Department of Pharmacology, PSG College of Pharmacy, Coimbatore on 10th-12th July, 2013.
Attended DRDO sponsored National level conference on Bio Analytical Techniques held at PSG College of Pharmacy, Coimbatore on 30th November and 1st December, 2012.
Attended CSIR sponsored National level seminar on Stereochemical Advendures in the synthesis of drug molecules held at PSG College of Pharmacy, Coimbatore on 3rd and 4th July, 2009.
Participated in the National Symposium on Glacial Overview of Tuberculosis organized by St James College of Pharmaceutical Sciences, Chalakudy, Kerala on 20-21 March, 2009.
Attended UGC sponsored one day National level workshop on 'Drug Synthesis Strategy' on 17th February 2007 at Department of Pharmacy, Annamalai University.
Presented a paper entitled "Synthesis and biological evaluation of novel pyrimidine derivatives" in National symposium on Glacial overview of Tuberculosis at St. James College of Pharmaceutical Sciences, Chalakudy, Kerala on 20-21 march, 2009.
Presented a paper entitled "QSAR studies on 4-amino bicyclo-[2.2.2]-octane derivatives as antitrypanosomal and anti malarial agents" in national level seminar on "Stereochemical adventures in the synthesis of challenging drug molecules", Sponsored by CSIR, New Delhi and Organized by PSG College of Pharmacy, Coimbatore on 3rd and 4th July, 2009.
Presented a paper entitled "Synthesis, characterization and biological evaluation of Schiff bases of 4-(2-amino phenyl) – morpholine" in national level seminar on "Stereochemical adventures in the synthesis of challenging drug molecules", Sponsored by CSIR, New Delhi and Organized by PSG College of Pharmacy, Coimbatore on 3rd and 4th July, 2009.
Attended CSIR Sponsored workshop on 'Theory and hands on experience on 3D structure determination of drugs and drug like molecules using X-ray crystallography' held in Gandhigram Rural University during 14th and 15th March 2008.
Attended AICTE Sponsored National seminar on 'Designing and synthesis of novel medicinal compounds by microwave techniques' from 8-10 June 2007 at Dayananda Sagar College of Pharmacy, Bangalore.

Publication details

Maida Engels SE, Balaji B, Divakar S, Geetha G. Ligand based pharmacophore modeling, virtual screening and molecular docking studies to design novel pancreatic lipase inhibitors. International Journal of Pharmacy and Pharmaceutical Sciences, 2017, 9 (4):48-64.
S. E. Maida Engels and Dr. G. Geetha, Study of physico chemical requirements of bis (phenoxy methyl) benzenes, bis (phenoxymethyl) naphthalenes and bis (benzyloxy) naphthalenes for antiprotozoal activity: a qsar approach. World Journal of Pharmacy and Pharmaceutical Sciences, 2016, Volume 5, Issue 5, 1582-1592.
Umaa. K, Kavithamani. A, Maida Engels. S.E, Geetha. G, Quantitative structure activity studies on the anti-mycobacterial potentials of certain chalcone derivatives, International Journal of Research in Organic Chemistry 2013; 3(2): 6-10.
Umaa. K, Sudha Rani. S, Sangeetha. G and Maida Engels. S. E, Prediction of physiochemical parameters for anti-tubercular potentials of Mannich and Schiff bases, J. Chem. Pharm. Res., 2013, 5(4):52-59
P. Valentina, K. Ilango and Maida Engels, Rationalization of Physico chemical characters of 2-phenyl- 3-hydroxy- 4(1h)-quinolinone- 7-carboxylic acid analogs as topoisomerase inhibitors: a QSAR approach. IJPER, July-September, 2009, 43(3), 284-289.

Project details

Synthesis and antimicrobial screening of some novel2-amino benzothiazole derivatives
Review on pharmaceutical marketing
Qsar studies on bis (phenoxymethyl) benzenes, bis (phenoxymethyl) naphthalenes and bis(benzyloxy) naphthalenes as anti-protozoal agents
Exploration of active phyto constituents for pancreatic lipase inhibitory activity by molecular docking studies
Synthesis of azetedin-2-one derivatives
Synthesis and pancreatic lipase inhibitory activity of phenacyl substituted heterocyclic compounds and their in vitro screening for anti obesity activity.

Conference/ Workshop/ Symposium/ Seminar organized

Organizing member of National level seminar on Stereochemical Advendures in the synthesis of drug molecules held at PSG College of Pharmacy, Coimbatore on 3rd and 4th July, 2009 (CSIR).
Organizing member of National level conference on Bio analytical techniques (October 2012).
Organizing member of National Level Conference on " Approach of Green Chemistry in Pharma, Chemical and Material Science Sectors – A Perspective – PSG College of Pharmacy, 2015, ( DST)
Organizing member of National Level Conference on "Biosensors – A pharmaceutical Perspective" PSG College of Pharmacy, 2018.

Awards received

Received Best paper award in the SERB-DST sponsored National symposium on "Exploring the advances and challenges in Green and Protein Chemistry: Industry and Academia perspectives" during 9th &10th March, 2018 held at JSS College of Pharmacy, Ooty.
Fellowship received: Junior research Fellowship (AICTE) (Aug 2003 – Aug 2005)

Dr. P. Rama

M.Pharm., PhD.,

Assistant Professor

| | |
| --- | --- |
| Field of Specialization | Pharmacy Practice |
| Experience | 10 yrs 4 months |
| Office Contact Details | Department of Pharmacy Practice,PSG College of Pharmacy, Peelamedu, Coimbatore-04, |
| Mobile No & Ph. No | 7708286873 & 0422 -4345841 Ext: 5847 |
| Email | ramap@psgpharma.ac.in |
| Residential Address | 339, Nirajana Enclave, Mariammankovil street, Peelamedupudur, Coimbatore -04 |
| Blood Group | B+ |
| Area of research | Clinical Pharmacy services |

Participation in conference/ symposia/ training – 32

Continuing Pharmacy Education Programme – 18
Participated in Workshop on "Research Ethics" held at PSG IMSR on 28th April 2018.
Participated in Workshop on Activity based learning organized by PSG center for Academic Research and Excellance, Coimbatore on 24th February 2018.
Participated and Present a paper in 2nd International conference on Clinical Pharmacy – catalyzing changes in health care practice on 20 – 21 January 2017 held at Manipal University, Manipal, Karnataka.
Participated in Workshop on Effective use of Moodle – a learning management System organized by PSG center for Academic Research and Excellance, Coimbatore on 7th November 2016.
Participated and Present a paper in International conference on Clinical Pharmacy Practice Skills – Recent Perspectives on 7th – 9th September 2016 organized by the department of Pharmacy Practice , Sri Ramachandra University, Porur, Chennai
Participated in Workshop on Role of Pharmacist in clinical research sponsored by Novartis Healthcare Pvt Ltd, Hyderabad on 25th June 2016 held at PSG college of Pharmacy, Coimbatore.
Participated in Current ethical and regulatory requirements for members of Institutional Ethics committee organized by clinical development services agency and Department of biotechnology, ministry of science and technology, Govt.of Indial held at PSGIMSR on 19th & 20th January 2016
Participated in Workshop on Creative Teaching series – Bloom's Taxonomy organized by PSG center for Academic Research and Excellence, Coimbatore on 19th December 2015.
Participated in the online Educational activity on Ethical and Regulatory aspects of clinical research at the National Institutes of Health clinical center, department of Bioethics held at Maryland, US on 30th September through 18th November 2015.
Participated in workshop on Teaching learning and Evaluation held at PSGIMSR on 22nd October 2015
Participated and delivered a talk on Pharmacovigilance in National conference on Pharmacovigilance & Pharmacoeconomics organized by department of pharmacy practice, PSG college of pharmacy on 27th June 2015.
Participated and present a paper topic entitled "Assessment of comorbidites and treatment pattern among cancer patients – A prospective observational study" in the International conference on Roles and Respnsibilities of Pharmacist on Chronic Disease Management, Adverse Drug Reaction and Therapeutic drug monitoring on 24th & 25th April 2015 held at PSG College of Pharmacy, Coimbatore
Participated in Continuing Professional Programme III for community and hospital pharmacist on Tuerculosis organized by department of pharmacy practice, PSG college of pharmacy on 25th March 2015.
Participated in CME on Current Regulatory changes in Clinical trials held at PSG IMSR on 14th February 2015

Publication details: 07

Rama.P*, Prudence A Rodrigues, Archana Georgy, Pharmaovigilance: Perspectives and Future Challenges In Indian Scenario, Asian J Pharm Clin Res2011; 4 (4):1-4.
Rama.P*, Sankar.V, Prudence.A.R. Retrospective study of clinical profile and current usage of drugs in cancer patients. The Indian Pharmacist Vol XI, No.4 October 2012 pg 57-63.
Rama.P, Dr.Siddharth Pal, Dr.Ismail, Rajesh.C. Clinical Evaluation of Atorvastatin co administered with ACE inhibitors and/or Calcium antagonist in patients with Dyslipidemia, Asian J Pharm Clin Res 2013
S. Venkateswararao, Asha Sara Stephen Kshma. Indoria, P. Rama. Evaluation And Pharmacist's Intervention For Improving Adherence Among Renal Failure Patients. International Journal Of Pharmacy And Pharmaceutical Sciences 7(3):82-85.
Elna Babu, Hema Palanichamy, Nikhil Vinod, Shambavi Ravichandar, Rama Parthasarathy. Evaluation of Effects of Medical Reconciliation in Renal Failure Patients in a Tertiary Care Hospital. Indian Journal of Pharmacy Practice, Vol 10, Issue 3, Jul-Sep, 2017.166 – 173
Sankar V, Nimitha M, Rama P. A prospective study based on the evaluation of daily and intermittent dosage of anti tubercular drug therapy. Indian drugs 55(03) March 2018.pg 49-57.
Alan Kurian, Aswini V, Shiva Ranjini B, Jerry Davis M, Rama P, Vadivel Vinot. A Study On Antimicrobial Sensitivity And Cost Analysis Of Antibiotics In Pediatric Unit At A Tertiary Care Hospital. Asian J Pharm Clin Res, Vol 11, Issue 2, 2018, 242-251.

Project details

Projects guided – 20

UG – B.Pharm (03)

A Prospective study on Prescribing Pattern of Anti microbial agents in Tertiary care hospital.
Summary of Lookalike Drugs in Community Pharmacy – A Vigilant Sentry
A Retrospective Study on Clinical Profile and Management of Dengue Fever

PharmD (07)

Evaluation and Pharmacist's intervention for improving adherence among renal failure patients
Clinical evaluation of Diuretics in the management of Hepatic diseases.
A comparative study on rifaxamin, lactulose and its combination in the management of hepatic encephalopathy.
Antibiotic prescription patterns and risk factors of ventilator associated pneumonia in a medical ICU of a tertiary care hospital
Evaluation Of Effects Of Pharmacist's Role In Medical Reconciliation In Renal Failure Patients In A Tertiary Care Hospital.
Study on antimicrobial sensitivity and cost analysis of antibiotics in pediatric intensive care unit at a tertiary care hospital in South India.
Impact of medical reconciliation in transition of care for Patients with Cardiovascular diseases.

PG – Pharmacy Practice (07)

A prospective observational study on assessment of co morbidity and treatment pattern in cancer patients.
Assessment of risk factors and clinical outcome of neoadjuvant therapy in breast cancer patients
Evaluation Of Reproductive Risk Factors And Treatment Regimens In Relation To Tissue Marker In Breast Cancer Patients.
A Prospective Observational Study On Assessment Of Co-Morbidity And Treatment Pattern In Cancer Patients.
Assessment of drug- drug interaction in the management of cancer
Pharmacoeconomic evaluation of oral antidiabetics in ambulatory patients in tertiary care hospitals
Evaluation, prevention and management of drug induced nephropathy.

Ongoing Projects

PG – Pharmacy Practice (01)

Retrospective study on comparison of Ticagrelor versus Clopidogrel in Cardiology

PharmD (02)

Evaluation of drug use pattern and behaviour in rural and urban population.
Drug utilization evaluation of benzodiazepines in a tertiary care hospital

PhD Thesis: Risk factor and co morbidity assessment in patients with breast Cancer: A Case Control study

Conference/ Workshop/ Symposium/ Seminar organized:

Joint coordinator for conducting seminar
National Level Technical Symposium On Emerging Opportunities and Challenges for clinical Pharmacist in National Health Care on 29th and 30th October 2010 at PSG College of Pharmacy, Coimbatore.
National level Technical Symposium On "Emerging opportunities for Clinical Pharmacist" on 8th & 9th July 2011 held at PSG College of Pharmacy, Coimbatore
National Level Seminar on Widening Horizons for Practicing Pharmacist in Industry and Hospitals on 5th and 6th July 2013 at PSG College of Pharmacy, Coimbatore.
Registration committee member in "International conference on Roles and Responsibilities of Pharmacist on Chronic Disease Management, Adverse Drug Reaction and Therapeutic drug monitoring" on 24th & 25th April 2015 held at PSG College of Pharmacy, Coimbatore

Awards received:

Gna Sebastin Award for BEST OUT GOING in M.Pharmacy 2008 batch
Gold Medal for First rank in M.Pharm (Pharmacy Practice) from Periyar College of Pharmaceutical Sciences, Trichy.
Third Prize for poster presentation on topic entitled "Pharmacovigilance: Future Perspectives in Indian Scenario" in National level seminar on "Pharmathion-2011.
Third Prize for Case presentation on topic "Impact of a Clinical Pharmacist – The Emphasis On Diabetes Complications and it's Management" in National level Technical Symposium On "Emerging opportunities for Clinical Pharmacist" on 8th & 9th July 2011 held at PSG College of Pharmacy, Coimbatore
Second Prize for oral presentation on topic entitled "Assessment of comorbidites and treatment pattern among cancer patients – A prospective observational study" in the International conference on Roles and Respnsibilities of Pharmacist on Chronic Disease Management, Adverse Drug Reaction and Therapeutic drug monitoring on 24th & 25th April 2015 held at PSG College of Pharmacy, Coimbatore.
Best oral presentation for topic entitled "Assessment of co morbidities and drug drug interaction among cancer patients" in the International conference on Clinical Pharmacy Practice Skills – Recent Perspectives on 7th – 9th September 2016 organized by the department of Pharmacy Practice , Sri Ramachandra University, Porur, Chennai.

Journal/ Book reviewer/ Course material

Journal of Research in Pharmacy
nternational Journal of Pharma Research

Dr. S. Malathi

M.Pharm., Ph.D.,

Associate Professor

| | |
| --- | --- |
| Field of Specialization | Pharmaceutical Analysis |
| Office Contact Details | PSG college of Pharmacy, Department of Pharmaceutical Analysis,Cbe. |
| Email | malathi_s@psgpharma.ac.in, malathisanju@gmail.com |
| Residential Address | No 20, Gandhi nagar, Uppilipalayam (Po), Coimbatore. |
| Blood Group | O+ve |
| Area of research | Method development in New Drug Molecules. |

Participation in conference/ symposia/ training

Participated in the workshop on Teaching Learning Evaluation Conducted by
PSGIMSR on October 2015.
Participated in the workshop on Effective use of Moodle-A Learning management System organized by PSG-CARE on November 2016.
Participated in one day training Programme on ''Basics in Analytical Techniques"Conducted by South India Textile Research Association during 5th February 2018.
Participated in two days seminar on ''Industrial Pharmacy,Quality control& Assurance and management conducted by Sri Ramakrishna Institute of Paramedical Sciences, Coimbatore on 5th and 6th May 2018.
Participated in one day session on ''Examination and Evaluation system in Higher Educational Institutions''conducted by PSGIM on June 2018.

Publication details

J.V Susheel, S.Malathi and T.K.Ravi. "Analysis of Ropinirole in Tablet dosage form"Indian J Pharm Sci 2007; 69(4):589-591.
S.Malathi, R.N Dubey and R.Venkatnarayanan "Simultaneous RP-HPLC estimation of cefpodoxime proxetil and clavulanic acid in tablets" Indian J Pharm sci 2009;71(1):102-105.
S.Malathi, T.Sivakumar, S.Mohan" Development and Validation of UPLC Method for estimation of Balofloxacin in Tablet Dosage Form" Am. J. Pharm Tech Res.2013; 3(5): 392-397.
S.Malathi, T.Sivakumar "Development and Validation of a new UV method for analysis of Balofloxacin" Am. J. Pharm Health Res 2013; 1(6):71-75.
S.Malathi, T.Sivakumar "Development and Validation of HPTLC Method for estimation of balofloxacin in Bulk Drug and in Tablet Dosage form" Int.J.PharmTechRes 2014; 6(1):392-395.
S.Malathi, T.Sivakumar"Method development and validation for simultaneous estimation of Sitagliptin and simvastatin in pharmaceutical formulation by HPTLC WJPPS 2015; 4(5):1337- 1345.
S.Malathi, M.Vijayalakshmi "Development and Validation of HPTLC Method for Simultaneous determination of Alogliptin and Metformin in fixed dose combination tablets''Am.J.Pharm Tech Res 2017; 7(4):375-386.
S.Malathi, M.Vijayalakshmi "Development and Validation for simultaneous Estimation of alogliptin and metformin in combined dosage form by UV method''Am.J.Pharm Health Res 2017; 5(8):1-10.
S.Malathi, ''Simultaneous UV spectroscopic estimation of cefpodoxime proxetil and Clavulanic acid in tablet ''Am.J.Pharm Health Res 2018; 6(4):81-88.
D.Darthi, S.Malathi, "Simultaneous UV spectrophotometric method for estimation of escitalopram oxalate and flupentixol dihydrochloride in tablet dosage form "Int. J.Chem Res 2018; 11(6):134-138.

Project details

PG projects:

Development of validated analytical methods for simultaneous estimation of Cefpodoxime Proxetil and Clavulanic acid in pharmaceutical preparation.
Development of validated analytical methods for estimation of Gemifloxacin in pharmaceutical preparation.
Development of validated analytical methods for estimation of Duloxetine in pharmaceutical preparation.
Method Development and Validation of RP-HPLC method for determination of Metformin and Alogliptin in tablet dosage form.
Development and validation of Analytical methods for estimation of Metformin and Alogliptin in combined dosage form and from plasma.
Development and validation of Analytical methods for estimation of Escitalopram and Flupentixol in combined dosage form and from plasma.

UG Projects:

Development and validation of analytical method for the estimation of Duloxtine in pharmaceutical formulation using RP-HPLC.
To study the quality control and applications of analytical techniques in pharmaceutical industry.
Development and validation of HPTLC method for the estimation of Glimepiride and Metformin in pharmaceutical formulation.
UV Spectro photometric determination of Fluoroquinolone in pharmaceutical formulation.
Per lustration of Diacerein by spectroscopic method
Development of UV spectroscopic method for simultaneous determination of Metformin and Alogliptin in pharmaceutical formulation.
Quantitative Estimation of Triphala Churna by HPTLC.

Conference/ Workshop/ Symposium/ Seminar organized

Workshop organized: One day hands on workshop on ''Fundamentals of HPLC' at PSGCP during February 2018.

Awards received

Best Paper Award in national level seminar on "Stereo chemical adventures in the synthesis of challenging drug molecules", Organized by PSG College of Pharmacy, Coimbatore on 3rd and 4th July, 2009 for the paper entitled "Spectrophotometric estimation of gemifloxacin in formulation".
Received Scholarship award for M.PHARM project work guided from Tamilnadu pharmaceutical welfare Trust Chennai. Project title: Development and validation of analytical methods for estimation of cefpodoxime proxetil and clavulanic acid in pharmaceutical formulation. Year: 2007-2008.

Research Publications

Accredited / index journals-10

Membership of Prof. bodies/ Institutional committees: IPA

Mr. D. Sivakumar

M.Pharm., (Ph.D.,)

Assistant Professor ( Senior Grade)

| | |
| --- | --- |
| Field of Specialization | Pharmaceutical Chemistry |
| Office Contact Details with Ph.No | Department of Pharmaceutical Chemistry,0422 -4345842,9487415295. |
| Email | velusivam77@gmail.com |
| Residential Address | 82, West Arunachalam Street, R S Puram, Coimbatore |
| Blood Group | O+ve |
| Area of research | Synthesis of Thiadiazole derivatives and its Anti Tubercular Activity. |

Participation in conference/ symposia/ training –

National Level Seminar on " Stereochemical Adventures in the Synthesis of Challenging drug molecules – 2009 – PSG College of Pharmacy ( CSIR)
National Symposium on " Glacial Overview of Tuberculosis" – 2009 – St. James College of Pharmaceutical Sciences , Chalakudy, Kerala ( DST, ICMR,KSCST)
National Level Seminar on " Present and Future Perspective of Pharmaceutical Technology", RVS College of Pharmaceutical Sciences, Coimbatore , 2010 ( ICMR)
National Symposium on " Emerging Opportunities and Challenges for Clinical Pharmacist in National Healthcare", PSG College of Pharmacy, 2010 (DST, ICMR)
National Symposium on " Emerging Opportunities and Challenges for Clinical Pharmacists ", PSG College of Pharmacy, 2011 ( AICTE)
National Level Conference on " Approach of Green Chemistry in Pharma, Chemical and Material Science Sectors – A Perspective – PSG College of Pharmacy, 2015, ( DST)
National Level Seminar on " Bio – Cheminformatics" Bharathiyar University, Coimbatore (UGC) 2016
National Level Conference on " Biosensors – A pharmaceutical Perspective" PSG College of Pharmacy, 2018

Publication details

Docking Studies of 134 thiadiazoles against Protein Kinase G from Mycobacterium Tuberculosis, American Journal of Pharm Tech Research 2016 , 4 (3)

Project details - ( UG – B.Pharmacy)

Review on Pharmaceutical Marketing – 2012
Synthesis and Biological Evaluation on 1 3 4 Thiadiazole Derivatives – 2013
N – Acetylation of Heterocyclic Primary Amines – 2014
Synthesis of Azoles using Inorganic metal compounds -2015
Synthesis of Benzthiazoles using Inorganic Catalyst – 2016

Conference/ Workshop/ Symposium/ Seminar organized -

National Level Workshop on " Synthon Approach : The theory and Practice" Annamalai University, Chidambaram, 2010
Three Days National Level Workshop on " In Silico Drug Discovery and Lead Optimization, PSG College of Pharmacy , 2012
National Level Workshop on " Workshop on Teaching Learning and Evaluation" PSGIMSR , 2015
National Level Workshop on "Effective use of Moodle – A learning Management System" PSGCARE – 2016.
National Level Workshop on " Insights on Enhanced Classroom Delivery" PSGCARE , 2016

Membership of Prof. bodies/ Institutional committees – APTI

Mr. R. HariPrasad

M.Pharm.,

Assistant Professor

| | |
| --- | --- |
| Experience | 9 years. |
| Field of Specialization | Pharmaceutical Analysis |
| Office Contact Details with Ph. No | 04222570170. |
| Email | hari2mpharm@gmail.com |
| Blood Group | O+ve |
| Area of research | Formulation and bio-analytical development. |

Awards & Recognition:

General course on intellectual property rights(IPR)
Professional Diploma in clinical Research(PDCR)
Profieciency Award for securing 1 Rank in M.pharm.K.M.C.H College of pharmacy.

Participation in conference/ symposia/ training

Participated one day workshop on Bioanalytical techniques and its advancements organized by P.S.G college of pharmacy.
Attended one day workshop on "Learning and teaching methodologies organized by PSGIMSR .
Novel, High Sensitive, Validated HPLC Bioanalytical Method for Simultaneous Quantitation of Curcuminoids Pharmacokinetic Study, National Symposium On Mathematical Modeling In Drug Development And Drug Delivery (MMDD 2012) conducted by Ultra College Of Pharmacy, Madurai

Publication details

R Nithya, Karthik Siram, Ranganathan Hariprasad, Habibur M Rahman, Development and In Vitro Characterization of Paclitaxel Loaded Solid Lipid Nanoparticles, Current Nanomedicine; 2018(in press)
S. M. Habibur Rahman, K. Balakumar, N. Tamilselvan, Karthik Siram, Sridhar Karthik,
R. Hariprasad, Nanomaterials in Drug Delivery: existing scenario and potential scope, Chapter 7- Nanobiomaterials in Drug Delivery, Applications of Nanobiomaterials, William Andrew Publishers, Elsevier, Volume 9, 2016, Pages 197–228.
Balakumar Krishnamoorthy, S. M. Habibur Rahman, N. Tamil selvan,
R. Hari prasad, M. Rajkumar, M. Siva selvakumar, K. Vamshikrishna, Marslin Gregory, Chellan Vijayaraghavan, Design, formulation, in vitro, in vivo, and pharmacokinetic evaluation of nisoldipine-loaded self-nanoemulsifying drug delivery system, J Nanopart Res (2015) 17:34 [Impact Factor: 2.278]
Karthik sriram C. Vijaya Raghavan, K.Balakumar,N.Tamilselvan,S.M Habibur rahman, M. Siva Selva Kumar, Hari Prasad R, Solid lipid nanoparticles for diethyl carbamazepine for enhanced lymphatic delivery In Vitro In Vivo Evaluations: Expert opinion on drug delivery (2014) [Impact factor:5.2]
G.V. Peter Christoper, C. Vijaya Raghavan, K. Siddharth, M. Siva Selva Kumar,R.
Hari Prasad Formulation Optimization of Coated PLGA – Zidovudine Nanoparticles using Factorial Design and In Vitro In Vivo Evaluations to Determine Brain Targeting Efficiency, Saudi pharmaceutical journal Aprill 2013 [Impact factor:0.8]
Krishnamoorthy Balakumar, Chellan Vijaya Raghavan, Natarajan Tamil selvan, Ranganathan Hari prasad, Siyad Abdu, Self nanoemulsifying drug delivery system (SNEDDS)of Rosuvastatin calcium: Design, formulation, bioavailabilityand pharmacokinetic evaluation, Colloids and Surfaces B: Biointerfaces (Aug 2013) [Impact factor :4.8]
P. Venkatesh, N. Arun Kumar, R. Hari Prasad, K.B. Krishnamoorthy, K. Hari Prasath, V. Soumya, LC-MS/MS analysis of tetracycline antibiotics in prawns (Penaeus monodon) from south India coastal region: Journal of pharmacy research , JPR(6), 2013, 48-52.
[Impact factor: 2.8]
Palaniyappan , Arun Kumar Nagalingam, Hari Prasad Ranganathan, Krishnamoorthy Bharathi Kandhikuppam, HariPrasath Kothandam & Soumya Vasu, Antibiotics in South Indian coastal sea and farmed prawns (Penaeus monodon) Food additives and contaminants:Part B:Surveillance,Aprill 2013. [Impact factor: 2.7]
Kavitha K Y, Geetha G, Hariprasad R Venkatnarayana R and Subramanian Development and Validation of RP-HPLC Analytical method for simultaneouys estimation of OF Emtricitabine, Rilpivirine, Tenofovir disoproxil fumerate and its Pharmaceutical dosage forms, , Pharmacie Globale (IJCP) 2013, 01 (07)
KavithaK.Y., Geetha.G., Hariprasad.R., Kaviarasu.M., and Venkatnarayanan.R., Development and validation of stability indicating RP-HPLC method for the Simultaneous extimation of linagliptin and metformin in pure and pharmaceutical dosage form. Journal of Chemical and Pharmaceutical Research. 2013., 5(1).230-235.
Kavitha K.Y., Geetha.G, Hariprasad.R., Venkatnarayanan .R and Kaviarasu. M., Development and validation of stability indicating RP-UPLC method for the Simultaneous estimation of Emtricitabine Rilpivirine, Tenofovir disoproxil fumerate and its pharmaceutical dosage form. International Research Journal of Pharmacy. 2013., 4(X)
KavithaK.Y., Geetha.G., Hariprasad.R., Venkatnarayanan.R., and Kaviarasu.M.G. Development and validation of UPLC method for simultaneous estimation of sitagliptin and Simvastatin from its pharmaceutical dosage forms. International Journal of Pharmacy and Industrial research. 2013.
Balakumar K, Vijayaraghavan C, Dineshkumar B, Hariprasad R, Tamilselvan N. Formulation and characterization of 5-fluorouracil nanoparticles: International journal of pharma research, IJPR(1)2012.
Saravanan J, Venkatesh P, Soumya V,Hariprasath K, Hariprasad R. Manisenthil kumar KT. Antiulcer and antioxidant activity of soymida febrifuga leaves: Journal of pharmacy research JPR(1) Jan2012
Hariprasad R, Geetha G, Venkatesh P,.Forced degradation study of Letrozole-A validated stability indicating HPLC assay for bulk and tablet dosage form: International journal of pharmacy and pharmaceutical sciences IJPPS(2)volume 4,582-586,Jan 2012.
Dineshkumar B, Krishnakumar K, David Paul, Joseph Cherian, Bhatt A.R, Umaa K, Tamilselvan N, Balakumar K, Hariprasad R, Musa sapientum L. Leaves: Synthesis of silver nanoparticles: International journal of nano materials and Biostructures,IJNMB,2012; 2(3) 22-24.
Dineshkumar B, Krishnakumar K, Mohamedshareef K, Tamilselvan N, Balakumar K,Vijayaraghavan C, Dhaushnamoorthy V, Hariprasad R, Sivaselvakumar M, Suresh S, Liquisolid compact technique: Enhancement of dissolution rate and bioavailability of water insoluble nisoldipine drug: International journal of advances in pharmaceutical research, IJAPR,Vol. 3 Issue. 12, 1303 – 1315. Dec. 2012
KavithaK.Y., Geetha.G., Hariprasad.R., Venkatnarayanan.R., and Subramanian.G. Development and validation of stability indicating RP-HPLC method for the Simultaneous estimation of sitagliptin and Simvastatin dosage form. International Research Journal of Pharmacy. 2012., 3(12).123-132
P. Venkatesh,V.Soumya, K.Hariprasath, R. Hariprasad, Microwave assisted extraction of Mangiferin from Mangifera indica L: International research journal of pharmacy,IRJP1(1)2010;209-212

Project details:

Bioanalytical method for simultaneous estimation of Reserveratol and curcumin
Development of RP-HPLC method for the estimation of Imatynib mesylate in formulation and in rat plasma

Journal/ Book reviewer/ Course material

Reviewer for Drug Delivery.
Reviewer for Chinese herbal medicine.

Patent details-Nil

Awards received

Best Poster Presentation Award Investigation of Lipid based Nanoparticles of Herbal Metabolite (Tetrahydrocurcumin) and Assessment of Pharmacokinetics in Wistar Rats in National Seminar on Recent Trends in Pharmaceutical Sciences- "PHARMA ANALYTICA 2K18, Jan 19-20, 2018 at National College of Pharmacy, Kozhikode.
Best Poster Presentation Award (First Prize) Novel, High Sensitive, Validated HPLC Bioanalytical Method for Simultaneous Quantitation of Curcuminoids Pharmacokinetic Study in National Symposium on Mathematical Modeling in Drug Development and Drug Delivery (MMDD 2012), 28-29th March, 2012 at Ultra College of Pharmacy, Madurai

Ph. D Guidance details-Nil

Membership of Prof. bodies/ Institutional committees

Member – Students Welfare Committee (Student Council) – Cultural Meet, Sports Meet, Annual College day, Science Club, Music Arts & Dance Club.
NSS programme officer of P.S.G college of pharmacy
Red Ribbon Club officer of P.S.G college of pharmacy

Book chapters/publications:

"Nanomaterials in Drug Delivery: existing scenario and potential scope" in the Multi Volume Book Nanobiomaterials in Drug Delivery – Applications of Nanobiomaterials Vol 9 Ch. 9; 197-228. Elsevier
Forced degradation study of letrozole –A stability testing guide. LAMBERT Academic Publishing, Germany.

Mrs. S. Vanitha

M.Pharm.,

Assistant Professor

| | |
| --- | --- |
| Field of Specialization | Pharmacognosy |
| Office Contact Details | PSG College of Pharmacy, Peelamedu, Coimbatore – 641004. |
| Phone Number | 0422-4345841(Office) |
| Mobile Number | 9629806513 |
| E-mail | vanithas2002@gmail.com |
| | vanithas@psgpharma.ac.in |
| Blood Group | O+ve |
| Area of research | Pharmacognosy and Phytochemistry |

Participation in conference/ symposia/ training

Workshop-3
Training-1; Oral-1
Poster-1;Chairperson-2

Oral presentation

"In vitro Study on α-Glucosidase Inhibitory Activity of an Indian medicinal plant Basella rubra" in the Fourth Euro-India International Conference on Holistic Medicine (ICHM-2014) held at Kottayam, Kerala, India during 24-26 October, 2014.

Poster presentation

In vitro Antioxidant Activities of methanolic leaf extract of Swietenia mahagoni seminar on Novel approach of modern analytical techniques in standardization and bio estimation of herbal drugs organized by college of Pharmacy Sri Ramakrishna Institute of Paramedical Sciences, Coimbatore held on 23rd Nov-2011.

Training

Research Methodology, Scientific writing and critical analysis of scientific publications, AICTE-ISTE sponsored training program organized by Annamalai University, Chidambaram,2018

Chairperson

State Level Symposium on Current Trends in Herbal Science conducted on 26th September 2015.
Fourth Euro-India International Conference on Holistic Medicine (ICHM-2014) held at Kottayam, Kerala, India during 24-26 October, 2014.

Workshop

Participated in the Workshop on Teaching Learning & Evaluation programme held on 22nd October, 2015 Organized by the Department of Medical Education, PSGIMS&R, Coimbatore.
Training on Effective use of Moodle –A Learning Management System, PSGIM Coimbatore, 2016
Lecture on Future classrooms: Flipped classes and Technology- Aids for Effective teaching and learning, PSGIM Coimbatore,2018

Publication details: National-2 International-1

Vanitha Subburaj. Venkata Rathina Kumar Thiagarajan,Arunachalam Muthuraman, Shanmugarajan Krishnan, Ajithadas Aruna and R. Tharabai "Pharmacological evaluation of methanolic leaf extract of Swietenia mahagoni on acrylamide-induced neuropathic pain in rats". Toxicology and Industrial Health. May 2012.(Impact factor:1.859)
Vanitha Subburaj, Venkata Rathina Kumar Ajithadas Aruna, R.Gowri 'Study on In vitro Antioxidant Activities of Methanolic leaf extract of Swietenia mahagoni'. International Journal of Pharma Research. Vol 3 (1), 2012, pp26-27.
B. Samuel Thavamani1* and Vanitha Subburaj. "In vitro Studies on Basella rubra Different Extracts as Inhibitors of Key Enzymes Linked to Diabetes Mellitus", Pharmacognosy Journal, 2017; 9(1):107-111

Project details

Dec 2020- A Pharmacognostical, Phytochemical and Pharmacological review on Swietenia mahagoni (L.) Jacq
Aug 2019- A literature based review of phytochemical and pharmacological investigations of Simarouba glauca DC
Aug 2018 – Quantification of flavonoids present in Swietenia mahagoni leaf by HPLC method
Aug 2017 – Quantitative analysis of phytoconstituents from Swietenia mahagoni HPTLC method
Aug 2016-Standardization of Cardiospermum halicacabum extract by HPTLC method
Aug 2015 – α – Glucosidase Inhibitory Activity of Basella rubra
Aug 2014 – Formulation and Evaluation of Herbal Gel Containing Cardiospermum halicacabum extract

Conference/ Workshop/ Symposium/ Seminar organized-2

National level conference on Convergence of Technology in Phytopharmaceuticals and its Importance in Trade and Entrepreneurship on 11th and 12th of November 2016
State Level Symposium on Current Trends in Herbal Science conducted on 26th September 2015

Mr. S. Karthikeyan

M.Pharm.,

Assistant Professor

| | |
| --- | --- |
| Field of Specialization | Pharmaceutical Biotechnology |
| Office Contact Details | PSG College of Pharmacy, Peelamedu, Coimbatore – 641004 |
| Phone number | 0422-4345841(Office) Extn 5849 |
| Email id | karthikeyans@psgpharma.ac.in |
| | skarthik.kerala@gmail.com |
| Work Experience | 17 years |
| Academic | 9 years as an Assistant Professor at PSG College of Pharmacy, Coimbatore. |
| Pharma Marketing | 8 years, GlaxoSmithkline Pharmaceuticals, Novartis Oncology |
| Blood Group | "B" positive |
| Area of research | Artificial intelligence, Phytomedicine, Molecualr biology |

Participation in conference/ symposia/ training

Conferences

National conference on current perspectives in novel drug delivery systems, 16th &17th June 2017 at PSG College of Pharmacy, Coimbatore.
3rd International conference on drug delivery(ICODD 2014), 28th February -1st March 2014 at PSG College of Pharmacy, Coimbatore.

Workshops

National level workshop on nano materials characterization techniques, 11th &12th August 2016 held at PSG College of Pharmacy, Coimbatore.
Workshop on role of pharmacist in clinical research on 25th June 2016 held at PSG College of Pharmacy, Coimbatore.

Trainings

Quality Improvement Programme (QIP) on Prospective Approach on advanced Biotechnology, Cell culture and bioinformatics in modern research, 3rd-14th March 2019, organized by Department of Pharmaceutical Biotechnology, JSS College of Pharmacy, Ooty.
Hands on training on Material science suite(Schrodinger) simulation technology in pharmaceutical formulation development 1st & 2nd March,2019 organized by Department of Pharmaceutics, PSG College of Pharmacy
Workshop on Effective use of Moodle – A learning management system on 2nd November 2016 organized by PSG Center for academic research and excellence, Coimbatore.
Internal auditor course on Quality management system (ISO 9001:2015) on 7th -8th October 2016, organized by TUVRheinland, India.
Workshop on teaching learning & evaluation on 22nd October 2015, organized by PSG institute of medical sciences and research, Coimbatore
National workshop on Techniques in animal cell culture and in vitro toxicology on 1st-10th April (10 days) Organized by Mahatma Gandhi-Doerenkamp center(MGDC), Bharathidasan University, Tiruchirappalli.
Workshop on Creative teaching series- Bloom's taxonomy, on 19th December2015 organized by PSG Center for academic research and excellence, Coimbatore

Project details

UG Projects

Formulation and evaluation of antimicrobial activity of herbal cream and ointment contains Borassus flabellifer root extract. August 2017
Formulation of herbal gel contains Anisomeles malabarica extract and its evaluation of antibacterial activity, August 2016
Development of an automated system for bacterial cell count, April 2016, Department of Biomedical engineering, PSG College of Technology, Coimbatore a an External guide.
Formulation of herbal gel contains Quercus infectoria extract and its evaluation of antimicrobial activity against clinical isolates of Staphylococcus aureus. August 2015

Conference/ Workshop/ Symposium/ Seminar organized

Member organizing committee, Hands on training on Material science suite(Schrodinger) simulation technology in pharmaceutical formulation development 1st & 2nd March,2019 organized by Department of Pharmaceutics, PSG College of Pharmacy
Member organizing committee, National conference on current perspectives in novel drug delivery systems, 16th &17th June 2017 at PSG College of Pharmacy, Coimbatore.
Member organizing committee, National level workshop on nano materials characterization techniques, 11th &12th August 2016 at PSG College of Pharmacy, Coimbatore
Member organizing committee, 3rd International conference on drug delivery (ICODD 2014), 28th February -1st March 2014 at PSG College of Pharmacy, Coimbatore

Awards / Recognition

Guiding a student project (P.Janani, Pharm.D interns) titled Anti-Dysentery and phytochemical studies of the mixture of Mangifera indica, Phyllanthus emblica and Syzygium cumini selected for BIRAC-SRISTI Appreciation award of Rs.1,00,000

Journal reviewer

Reviewer in International Journal of Pharma Research (IJPR) ISSN 0975-3532

Mrs. R. Nithya

M.Pharm.,

Assistant Professor

| | |
| --- | --- |
| Experience | 11 years |
| Academic | 6 years as Assistant Professor in PSG College of Pharmacy,Coimbatore. |
| Industry | 5 Years as Junior Manager in the Dept of Formulation R&D, in Pharmaceutical industry |
| Field of Specialization | Pharmaceutics |
| Office Contact Details | PSG COLLEGE OF PHARMACY,Peelamedu,Coimbatore – 641 004. |
| Phone No | (Off):0422 -2570170 ,Extn – 5840,+91-0422-4345841. |
| Fax No | 91–422–2594400 |
| Blood Group | O+ ve |

Area of research:

Lipid drug delivery systems
Solubility Enhancement Techniques
Bilayer Tablet Technology

Participation in conference/ symposia/ training:

Attended AICTE sponsored Quality Improvement Programme on "Advanced Trends in Pharmaceutics" at JSS College of Pharmacy,Ooty from March 9th 2018 to March 24th 2018.
Attended one day programme on "Lecture on techniques and strategies for effective teaching" organized by PSG CARE, Coimbatore on March 23 rd 2017.
Attended National Level Conference on "Current Perspectives in novel drug delivery systems" organized by PSG college of Pharmacy on 15th & 16th Jun 2017.
Attended one day workshop on " Workshop on documenting the teaching practice" organized by PSG CARE,Coimbatore on Dec 18th 2017.
Attended National Level Workshop on " Nanomaterial characterization Techniques" organized by PSG college of Pharmacy on 11th & 12th August 2016.
Attended a Seminar on "Recent advances in nanotechnology and its biological applications" organized by Karpagam University, Coimbatore on Sep 8th 2016.
Attended one day workshop on " Role of Pharmacist in Clinical Research" organized by PSG college of Pharmacy, Coimbatore on Jun 25th 2016.
Attended one day training programme on Effective use of Moodle- A Learning Module organized by PSG CARE,Coimbatore on Nov 11th 2016.
Completed Distance Learning General Course on Intellectual Property conducted by WIPO Academy from July 18th Aug 29th 2016.

Project details: PG Projects:

PG Projects: 2

Cubosomal delivery to enhance the skin permeation of dapsone
Mucoadhesive nanoparticles of norfloxacin for gastroretentive drug delivery.

Conference/ Workshop/ Symposium/ Seminar organized:

Organizing committee member in National Level Conference on "Current Perspectives in novel drug delivery systems" organized by PSG college of Pharmacy on 15 th & 16 th Jun 2017.
Organizing committee member in National Level Workshop on " Nanomaterial characterization Techniques" organized by PSG college of Pharmacy on 11 th & 12 th August 2016.

Patent Details: 1(Granted)

Awards/Achievements/Recognization:

Guided a Project on Novel Cubosomal Delivery to Enhance the Skin Permeation of dapsone which won a Best Poster Award at a Conference on "Innovation in Pharmaceutical Technology" organized by NIPER, Hyderabad on Jan 24th 2017.
Associate Editor – International Journal of Pharma Research [IJPR] ISSN 0975-3532.

Dr. V. Sivakumar

M.Pharm., Ph.D.,

Professor & HOD

| | |
| --- | --- |
| Field of Specialization | Pharmacy Practice |
| Office Contact Details with Ph. No | 0422 – 4345841 Ext: 5847 |
| E-mail | sivavega@gmail.com |
| Residential Address | 13, Poompuhar Nagar, 2nd St, Goldwins, Coimbatore-641014 |
| Blood Group | B+ve |

Area of research

Artificial Intelligence in Pharmacotherpay
Oncology pharmacy practice
Gestational diabetes mellitus
Medicine utilization evaluation

Participation in conference/ symposia/ training

Participated

International Webinar on PHARMACY PRACTICE IN DENMARK held on 21st MAY 2020 organized by Faculty of Pharmacy, Dr. M.G.R. Educational and Research Institute, Chennai-600077
5 days training program on Artificial intelligence in health care 3rd June to 7th June 2019, Zonal Championship (IIT Madras) in association with makeintern.com at PSG College of Pharmacy, Coimbatore
Workshop on Research ethics – 28th April 2018, PSG Institute of medical sciences and research. Coimbatore.
Workshop on Professional placement – Paradigms of student development – 5th April 2018, PSG Centre for academic and research excellence. Coimbatore.
Workshop on Effective use of MOODLE-A learning management system 2nd November 2016, PSG Centre for academic and research excellence. Coimbatore.
Workshop on Smart lifelong learning in pharmacy – 21 & 22nd September 2016, Indian association of colleges of pharmacy. Chennai.
Workshop on Applying and implementing effective teaching methods for professional development– 5th December 2015, PSG Centre for academic and research excellence. Coimbatore.
Workshop on Teaching learning & Evaluation– 22nd October 2015, PSG Institute of medical sciences and research. Coimbatore.

Publication details:

International: 15
National: 01

Original article

Aashiq Ahamed, Nimmy George, Shanmugasundaram Radhakrishnan, Sivakumar Velusamy, Tamilarasu kaliappan, Rajendiran Gopalan, Premkrishna Anandan, Ramasamy Palanimuthu, Vidhyakar Rangaswamy Balasubramanian. Impact of clinical audit on adherence to the guidelines directed medical therapy in patients admitted with heart failure. Current Drug Safety 2020:15(2):117-123
Sivakumar V, Chrysolite Miriam, Rachel sabu, Sruthi V Menon, Veenashree R. Awareness of paediatric vaccination and its importance in the community. International Journal of Pharmacy and Pharmaceutical sciences 2019:16(3):277-287.
Sivakumar V, Divya V, Nandhitha Sri A.C, Dharani. A. Assessment of cost attributed to the management of diabetes mellitus. International Journal of Pharmacy and Pharmaceutical sciences 2019:16(3):336-344
Kukku Tresa Mathew, S. Kishor, Sheryl Elizabeth Jess, Veeramachaneni Sai Dutt, Sivakumar V. Assessment of off-label drug use in a tertiary care hospital. International Journal of Pharmaceutical sciences and Research 2019:10(6):3045-3052.
Sivakumar V, Wilson AR, Chandran B, Peter D, Joseph T. Impact of pharmacists' care in improving adherence to oral iron supplementation among anemic women. International Journal of Pharmacy and Pharmaceutical sciences 2018:13(3):198-211.
Thomas A, Joy J, Kurian A, Sivakumar V. Socio-epidemiological evaluation of tuberculosis and impact of pharmaceutical care on medication adherence among tuberculosis patients. Asian Journal of Pharmaceutical and Clinical Research 2018:11(2):265-268.
Divinah N, Simon JM, Sneha tomy, Arunprasath R, Sivakumar V. Appropriate empirical management of microbial infections in a tertiary care hospital: A cost-effectiveness approach. Asian Journal of Pharmaceutical and Clinical Research 2018:11(2):124-127.
Rangaraju V, Shukkoor AA, Ponnuvel M, Sivakumar V. Assessment of medication errors in chemotherapy receiving patients in tertiary care hospital. World journal of pharmacy and pharmaceutical sciences 2017:6(9): 1759-1769.
Sivakumar V. Comparison of treatment outcome of antihypertensive drugs in the management of pregnancy induced hypertension. International Journal of Pharmacy and Pharmaceutical sciences 2017:9(3):287-289.
Sivakumar V, Rajasekaran A, Vijayakumar A. Duration of gestational diabetes mellitus by 1st, 2nd, 3rd, trimester of pregnancy and its effects on pregnancy outcomes. World journal of pharmacy and pharmaceutical sciences 2015:4(10): 1191-1196.
Sivakumar V, Rajasekaran A, Vijayakumar A. Assessment of risk factors for the early detection of gestational diabetes mellitus. International Journal of Pharma Sciences and Research 2014; 5 (3): 114-118.
Velusamy Sivakumar, AyyaluRajasekaran. Assessment of risk factors to identify the high-risk women for pregnancy induced hypertension. International Journal of Institutional Pharmacy and Life Sciences 2014; 4(2): 79-84.

Case reports

Jeyaraj K, Krishnakumar M, Sivakumar V, Venkatakrishnan L. A case report on steroid induced acneiform eruptions. Indian Journal of Pharmacy Practice 2017:10(1):65-67.

Project details

PG projects: 35
UG projects: 5

2013

Pharm.D; 1 project, 2 students

Title of Project – Comparison of steroids in development of hyperglycemia

M.Pharm; 1 project, 1 student

Title of Project – Pharmaceutical care for cancer patient – Adherence and compliance

2014

Pharm.D; 2 projects, 6 students

Title of Project- Assessment of Knowledge and attitude of pharmacist towards diabetes care in community setup.

Title of Project-Standard operating procedure for cytotoxic drugs

M.Pharm; 3 projects, 3 students

Title of Project- Implementation of Pharmaceutical care in oncology

Title of Project- Adverse events management in cancer patients receiving chemotherapy

Title of Project- Adherence management in cancer patients taking oral antineoplastic agents

2016

Pharm.D; 3 projects, 10 students

Title of Project-Oncology pharmacist role in minimizing medication errors in cancer patients receiving chemotherapy.

Title of Project-Pharmacoepidemiological evaluation of tuberculosis and impact of pharmaceutical care on medication adherence among tuberculosis patient.

Title of Project-Pharmacoeconomic evaluation of antibiotic therapy in microbial infection

M.Pharm; 1 projects, 1 students

Title of Project-Role of clinical pharmacist in minimizing the error for the preparation and administration of parenteral drugs

2017

Pharm.D; 2 projects, 7 students

Title of Project-Assessment of off-label drug use in a tertiary care hospital

Title of Project-Women health management programme: Pharmaceutical care for anemia

M.Pharm; 1 project, 1 student

Title of Project-To compare the impact of various methods of counseling about inhalers in asthma and COPD patients and measure the effectiveness of counseling.

2018

Undergoing Projects

Pharm.D: 3 projects, 11 students

Title of Project-Quality assessment of oral anticoagulants

M.Pharm:3 project, 3student

Title of Project-Drug utilization evaluation of anti-epileptic drugs.

Title of Project-Drug utilization evaluation of 3rd generation cephalosporins.

Title of Project-Contrast induced nephropathy (CIN) and its management

Conference/ Workshop/ Symposium/ Seminar organized

Organized, Participated and Presented

21 – Attended and shared knowledge in Continuing Pharmacy Education (CPE)

Organized

Organizing committee member: Conduct and participated in – Students' forum – Pharmacy practice Current practice & future perception – 21st April 2017, PSG College of Pharmacy. Coimbatore.
Organizing committee member: Conduct and participated in – Workshop on Role of pharmacist in clinical research – 25th June 2016, PSG College of Pharmacy. Coimbatore.
Organizing committee member: Conduct and participated in – National conference on pharmacovigilance & pharmacoeconomics – 27th June 2015, PSG College of Pharmacy. Coimbatore.
Scientific committee member: Conduct and participated in – International conference on roles and responsibilities of pharmacist on chronic disease management, adverse drug reaction and therapeutic drug monitoring – 24&25th April 2015, PSG College of Pharmacy. Coimbatore.

Abroad Visits

Training for A phase III Randomized Early Parkinson's disease study – Clinical trial training and meeting –03 to 05 Nov 2010, Istanbul, Turkey.
Training for A phase III Randomized Parkinson's disease study – Clinical trial training and meeting –28 to 30th Nov 2008, Biogen Idec, Dubai.
Training for A phase III Randomized Multiple Sclerosis study – Clinical trial training and meeting –01 to 03 Oct 2008, Biogen Idec, HonkHong.
Training for A phase III Randomized Multiple Sclerosis study -Clinical trial training and meeting, 26-28 Jan 2008, Biogen Idec, Budapest, Hungery.

Mrs. S. Vijayalakshmi

M.Pharm.,

Assistant Professor

| | |
| --- | --- |
| Field of Specialization | Pharmaceutics |
| Office Contact Details with Ph. No | DEPARTMENT OF PHARMCEUTICS, PSG COLLEGE OF PHARMACY, COIMBATORE- 641004 |
| Mobile number | 9092398839 |
| E-mail | viji.jun11@gmail.com |
| Residential Address | 4/357, V V K nagar,K.Vadamadurai, Coimbatore-641017 |
| Blood Group | B +ve |

Experience

Served as a Pharmacist in KMCH, Coimbatore for 21/2 years
Served as a Pharmacist in Al Amal Pharmacy, Dubai, UAE for 2 years
Worked as an analytical chemist in Raymond Pharmaceuticals Pvt Ltd, Alathur, for 3 years
Worked as a tutor in K.M.College of Pharmacy, Madurai for 1 year

Area of research

Excipients Development
Solid Oral dosage forms
Bioavailability Enhancement

Participation in conference/ symposia/ training

QIP on Advanced Trends in Pharmaceutics from 09.03.2018 to 24.03.2018 at JSS college of Pharmacy, Ooty.
Workshop on Effective use of Moodle- A learning management System on 02.11.2016 at PSG CARE, Coimbatore.
Attended and presented an e-poster in National symposium on Impact of emerging technology on Nanomedicine for Anti-retroviral Therapy, on 21.10.2016 & 22.10.2016, at JSS college of Pharmacy, Ooty.
Seminar on Advance course in viscosity measurement problems & solutions,on 11.08.2016, organised by BRK Instruments India LLP
Orientation Program on 23.07.2016 at PSG CARE, Coimbatore.
Workshop on Role of Pharmacist in Clinical Research, on 25.06.2016 at PSG College of Pharmacy, Coimbatore, conducted by Novartis Healthcare Pvt Ltd.

Publication details

Senthil Prabhu R, Vijayalakshmi S, Mohamed Asraf Ali S, Abdul Hasan Sathali A, Studies on Preparation and Characterization of Carboxymethyl high Amylose Starch: As a Novel Polymeric Carrier in Oral Controlled Drug Delivery, Research journal pharmacy and technology, 8(6): June 2015
Senthil Prabhu R, Vijayalakshmi S, Mohamed Asraf Ali S, Abdul Hasan Sathali A, Formulation and Evaluation of pH Sensitive Mucoadhesive Microspheres of Fluvastatin Sodium,Research journal of pharmacy and technology, 8(10): Oct 2015

Project details

UG (B Pharm): An approach to enhance solubility of Ibuprofen using natural carriers using solid dispersion technique.

Conference/ Workshop/ Symposium/ Seminar organized

As a member of National level workshop on "Nanomaterials characterization techniques" organised on Aug 2016 sponsored by The TN Dr MGR Medical Universuty, Chennai.
As a Co-ordinator of National conference on "Current Perspectives In Novel Drug Delivery Systems" on June 2017 sponsored by ICMR & DST

Awards received

Qualified in GATE 2001 with Indian rank 35
Received an award for academic excellence in M Pharmacy under department of pharmaceutics, College of pharmacy, Madurai Medical college

Guideship details:

Abroad Visits: U.A.E

Mrs. C. Vijayalakshmi

M.Pharm.,

Assistant Professor

| | |
| --- | --- |
| Field of Specialization | Pharmacognosy |
| Office Contact Details with Ph. No | DEPARTMENT OF PHARMACOGNOSY, PSG COLLEGE OF PHARMACY,COIMBATORE 641004. |
| Mobile number | 9750999204 |
| E-mail | viji765@yahoo.co.in |
| Residential Address | 62,Sakthi Illam, Annai Velankanni Nagar,Sowripalayam, Coimbatore-641028 |
| Blood Group | 'O' Positive |

Area of research

Phytochemical analysis
Standardization of herbal drugs

Participation in conference/ symposia/ training -Conference-11,Workshop-2,Training-1, Poster -1

Poster presentation

"Pharmacological evaluation of Passiflora incarnata on Vincristine induced neuropathy in rats" national seminar organized by S. A. Raja Pharmacy College of Pharmacy on the topic" on Jan 2016.

Training

"Research Methodology, Scientific writing and critical analysis of scientific publications", AICTE-ISTE sponsored training program organized by Annamalai University, Chidambaram,2018

Workshop

"Techniques and Strategies for Effective Teaching" workshop organized by PSGIM, 2017
"System Thinking and Transformational Skills" workshop organized by PSGIM, 2017

Conference/Seminar Attended

"Hands on Training in Experimental Pharmacology" national conference conducted by PSG College of Pharmacy, 2017
"Herbal Antioxidants: Current status and future perspectives" national seminar organized by SSM College of Pharmacy on
Nov 2015
CME programme on "Renokinetics-2015"organised by institute of physiology, MMC, Madurai on Aug 2015
"Recent concept in pharmaceutical development process" organized by the Department of pharmaceutical analysis / Chemistry, national conference SBCP, Sivakasi on 2014.
"Orientation programme for Pharmacy students" seminar Organized by College of Pharmacy, Madurai Medical College, Madurai on Nov-2014
Nano medicine – Nano therapeutics- Technology transfer in Nano science &Technology research to product awareness workshop held at Madurai Kamaraj University, Madurai on 2013.
CME programme on "Incretin and its clinical applications"organised by institute of physiology, MMC, Madurai on 2013.
CME programme on "Diaporter – a paradigm shift" organized by the institute of pharmacology, MMC, Madurai on 2013.
"Newer trends in pharmaceutical nanotechnology" national seminar organized by Thanthai Rover College of Pharmacy, Perambalur on 2011.
"Strategies in new drug discovery" national seminar organized by Thanthai Rover College of Pharmacy, Perambalur on 2010.
" Current trends in Community pharmacy" national seminar organized by Periyar College of Pharmaceutical Sciences for Girls, Trichy on 2009.

Publication details International -1; National -3

Vijayalakshmi Chinniah, Venkata Rathina Kumar Thiagarajan, M. Selvakumar, "Pharmacological evaluation of Passiflora incarnata on Vincristine induced neuropathy in rats". World Journal of Pharmaceutical Research.2015; Vol: 4(5), 2331-2344.
Vijayalakshmi Chinniah, Venkata Rathina Kumar Thiagarajan. "Anatomical investigation on the leaves and stem of Passiflora incarnata". International Journal of Research in Ayurveda and Pharmacy. 2015; Vol: 6(3), 537-543.
M.Selvakumar, Vijayalakshmi Chinniah, and Venkata Rathina Kumar Thiagarajan. "Antiobesity activity of Ficus religiosa on High fat diet induced model". Research Journal of Pharmacy and Technology.2015; Vol: 8(6), 679-682.
Vijayalakshmi Chinniah, Venkata Rathina Kumar Thiagarajan," Extraction and Quantitative HPLC Analysis of Myricetin in Hydroethanolic extract of Passiflora incarnata (Passifloraceae)" Journal of Pharmacognosy and Phytochemistry, 2017; Vol:6(3),543-545

Project details:

Awards received

Alumni endowment award (Over all first) & Bronze medal (Third rank) – B.Pharmacy, Periyar College of Pharmaceutical Sciences for Girls, Trichy.
Academic excellence award – M.Pharmacy, Department of Pharmacognosy, College of Pharmacy, Madurai Medical college,Madurai.

Mr. M. Nithyananth

M.Pharm

Assistant Professor

| | |
| --- | --- |
| Field of Specialization | Pharmaceutics |
| Contact details | PSG College of Pharmacy, Peelamedu, Coimbatore – 641004 ,0422 -2570170, Extn – 5840,0422 4345841(Office) |
| Residential address | 7/47c thirunagar colony, Sathyamangalam-638402, Erode, Tamil Nadu |
| Email id | nithy.pharm@gmail.com |
| Blood Group | O+ve |

Participation in conference/ symposia/ training

Attended National seminar on "Impact of recent policy changes on pharmcetuical industries" in march 1st and 2nd 2019 at JSS College of Pharmacy,Ooty.
Worked as Senior Research Fellow in Indian Council of Agricultural Research (ICAR), New Delhi sponsored project titled "Resveratrol and catechins-loaded niosomes and nanoparticles as delivery vehicles for fortification of milk and milk products" and successfully developed novel nanoformulation for fortification of milk.
Worked as UGC-UPE Fellow in Natural Products and Drug Delivery Program under the scheme of "University with Potential for Excellence-Phase-II" at Jadavpur University, Kolkata and findings were acknowledged by ICMR,New Delhi for sponsorship.
Attended workshop on Roller compaction: Application in dry granulation technology organized in September 2011 by Gerteis at Uventis Bioscience in Pune, Maharashtra.
Trained and certified in GLP Toxicological formulation development at Piramal life scicencs,Mumbai.
Presented a paper titled "Formulation and In-vitro Evaluation of Salbutamol Proniosomes" at International Conference On drug delivery 2010, PSG College of Pharmacy, Coimbatore (Awarded Best Poster Presentation)
Delivered an oral presentation titled "Salbutamol Niosomes-Formulation, Tissue distribution & pharmacokinetics", 9th Tamil Nadu Science seminar, 2009, Alagappa University, Karaikudi (Awarded Best Oral presentation).
Presented a paper titled "Proniosomes as carrier for the delivery salbutamol for lungs" at National level conference on Recent Trends and Application of nanotechnology in Pharmacy and biology, 2010, Anna University, Tiruchirappalli.
Attended National level Technical Symposium at PSG College of Pharmacy, 2008, Coimbatore.
Presented a paper titled "Effect of HLB Value in the Stability of liquid Paraffin", National Seminar on Recent Trends in Pharmaceutical Sciences & Education 2010 at Al-Shifa College of pharmacy Perithalmanna, Kerala.
Delivered an oral presentation titled "Dexamethasone Sodium Phosphate nanoparticles-Novel approach to Post cataract treatment" in Tamil Nadu state council science and Technology Annual Seminar 2010 at Madurai, Tamil Nadu.
Presented a paper titled "Formulation and Invitro release studies of extended-release aspirin tablets" in 2nd IAPST, 2008 at Madras Medical College, Chennai.

Publication details - 4

Sankar V, Nithyananth M. and Vimal K. Proniosomes as carrier for the sustained delivery of salbutamol. Indian drugs 2011, 48(08), 22-32.
Sankar Veintramuthu, Nithyananth Munusamy, Ruckmani Kandasamy, Velayutham Kaniyappan. A Study on Prescription Pattern and Cost Analysis of Antiretroviral Drugs. International Journal of Pharma and Bio Sciences 2010, V1 (2).
Sankar Veintramuthu, Nithyananth Munusamy, Ruckmani Kandasamy, Velayutham Kaniyappan. Comparative Evaluation of Zidovudine Tablets Formulated using Natural and Semi Synthetic Binder. Acta Pharmaceutica Sciencia 2010, 52, 263-268.
Veintramuthu Sankar, Munusamy Nithyananth, Venkatesan Harikrishnan, Kalvarasariel Gopinathan, Pillai Prasanth, Kandasamy Ruckmani. Nanoparticles for Post Cataract Treatment. International Journal of Biomedical and Pharmaceutical Sciences 2009, 3 (1), 72-82.

Mrs. Sruthi Vinod

M.Pharm

Assistant Professor

| | |
| --- | --- |
| Field of Specialization | Pharmaceutical Analysis |
| Office Contact Details with Ph. No | PSG College of Pharmacy, Department of Pharmaceutical Analysis Peelamedu, Coimbatore – 641004, 0422 -2570170, 0422 4345841(Office) |
| Residential address | 5/7E,Plot no:116, Shakthi vinayagar nagar, vellallore, Coimbatore |
| Blood Group | "B" positive |
| Area of research | Analytical, Bioanalytical method development |

Participation in conference/ symposia/ training

Participant in One day seminar on "Novel Approach of Modern Analytical Techniques in Standardization and bio estimation of herbal drugs" 2011
Participant in 63rd Indian Pharmaceutical Congress 2011 held at Bangalore International Exhibition Centre, Bengaluru
Participant in One day seminar on "Emerging Trends and Challenges in Patient Focused Pharmacy Education" 2012
Participant in 64th Indian Pharmaceutical Congress 2012 held at SRM University, Chennai
Participant in Three days National Workshop on "Application of Chromatographic Techniques in Drug Analysis" 2014

Trainings

One month industrial training in Weight Variation, Dissolution Test, Disintegration Test, Hardness Test, Friability Test, UV-Visible spectroscopy, IR, HPLC, GC, Documentation, Analysis of Herbal Drugs and chemical analysis in FOURRTS INDIA PVT LTD, Chennai.

Publication details

Total papers published 5

A.Suganthi, Sai Lakshmi.C.H, Sruthi Vinod and T.K. Ravi,Development Of Validated RP-HPLC Method For Bosentan in Formulation and Its Application To In-Vitro Interaction Study With Aceclofenac. World Journal of Pharmaceutical Research, Volume 3, Issue 2, 2897-2909. ISSN 2277- 7105.
A. Suganthi, Sai Lakshmi. C. H, Sruthi Vinod, T. K. Ravi,Development and Validation of UV Spectroscopic and HPTLC Methods for the Determination of Bosentan from Tablet Dosage Form. Sch. Acad. J. Pharm., 2014; 3(2): 123-127, ISSN 2320-4206 (Online),ISSN 2347-9531 (Print).
JayaprakasamRajendran, Asha Jyothi, Liji Jacob, Sruthi Vinod, Ravi Thengungal Kochupappy Simultaneous determination of berberine and β- sitosterol in the leaf extracts of Naravelia zeylanica by analytical methods and their in vitro Anti diabetic activity.Journal of Advanced Pharmacy Education & Research Jul-Sep 2014 Vol 4 Issue 3
Jayaprakasam R.; Philip N.; Vinod S.; Jacob L.; Thengungal K. R.; HPTLC method for the simultaneous estimation of stigmasterol and β-sitosterol in Abroma augusta linn. roots and its in vitro biological activity screening, Indian Drugs (Vol.52, No. 2)page 12-19.
A. Suganthi, Sruthi Vinod, K. Arthi and T. K. Ravi Development of validated stability indicating hptlc method for lignocaine hydrochloride and its application to the assay of formulation and degradation kinetics ,World journal of pharmacy and pharmaceutical sciences. Vol 5, Issue 1, 2016.

Dr. Karthik Dhananjayan

M.Pharm (Pharmacology)., Ph.D (Medicine)

Assistant Professor

| | |
| --- | --- |
| Field of Specialization | Pharmacology |
| Office Contact Details | Department of Pharmacology, PSG College of Pharmacy, Peelamedu, Coimbatore,Tamil Nadu. |
| Phone Number | 0422 2570170 (Extension: 4853) |
| Email id | karthikdhananjayan@psgpharma.ac.in |
| | karthikdhananjayan@psgimsr.ac.in |
| Blood Group | B Positive |
| Area of research | Neuroscience: Ageing and Neurodegeneration. |

Conference proceedings

Publications

Book chapter

Dhananjayan K, Forbes J, Münch G. Chapter 9. Advanced Glycation, Diabetes and Dementia. Type 2 diabetes and dementia. London, United Kingdom: Academic Press (Elsevier), 2018, Pages 169-193.

Journal article

Dinakar S, Gurubarath M, Dhananjayan K*. Prediction of binding affinity of 1,2-diphenyline ketone analogues at adenosine triphosphate binding site of glycogen synthase kinase-3β: a molecular docking and dynamic simulation study. J Biomol Struct Dyn. 2022 May 11:1-16.https://doi.org/10.1080/07391102.2022.2074143 PMID: 35543239. Impact factor: 3.39
Manoharan JP, Nirmala Karunakaran K, Vidyalakshmi S, Dhananjayan K. Computational binding affinity and molecular dynamic characterization of annonaceous acetogenins at nucleotide binding domain (NBD) of multi-drug resistance ATP-binding cassette sub-family B member 1 (ABCB1). J Biomol Struct Dyn. 2021. https://doi.org/10.1080/07391102.2021.2013321. PMID: 34907862. Impact factor: 3.39
RamPravinKumar M, Dhananjayan K*. Peripheral arterial disease: Effects of ethanolic extracts of seed kernels of mango (Mangifera indica .L) on acute hind limb ischemia-reperfusion injury in diabetic rats. J Tradit Complement Med. 2021 May 30;11(6):520-531.

doi: 10.1016/j.jtcme.2021.05.004

. PMID: 34765516; PMCID: PMC8572715. Impact factor: 4.42
Dhananjayan K, Irrgang F, Raju R, Harman GD, Moran C, Srikanth V, Münch G (2019) Determination of glyoxal and methylglyoxal in serum by UHPLC coupled with fluorescence detection. Anal Biochem. 573: 51–66. Impact factor: 2.27
Dhananjayan K, Gunawardena D, Hearn N, Sonntag T, Moran C, Gyengesi E, Srikanth V, Münch G (2017) Activation of Macrophages and Microglia by Interferon-γ and Lipopolysaccharide Increases Methylglyoxal Production: A New Mechanism in the Development of Vascular Complications and Cognitive Decline in Type 2 Diabetes Mellitus?. J Alzheimers Dis, 59(2):467-479. PubMed PMID: 28582854. Impact factor: 3.92
Gyengesi E, Liang H, Millington C, Sonego S, Sirijovski D, Gunawardena D, Dhananjayan K, Venigalla M, Niedermayer G, Münch G. Investigation Into the Effects of Tenilsetam on Markers of Neuroinflammation in GFAP-IL6 Mice (2018). Pharm Res, 5;35(1):22. PubMed PMID: 29305671. Impact factor: 3.42
Dhananjayan K, Arunachalam S, Sivanandy P, Parameswaran M(2015) Computational drug discovery of Rho – associated coiled coil kinase II (ROCK-II) inhibitors as a target for neuro- degenerative disorders – an insilico docking study. Orient Pharm Exp Med, 15: 53-71. Impact factor: 0.86.
Dhananjayan K (2015) Molecular Docking Study Characterization of Rare Flavonoids at the Nac-Binding Site of the First Bromodomain of BRD4 (BRD4 BD1), J Cancer Res, Article ID 762716, 1-15.
Dhananjayan K, Majumder P, Sivanandy P, Khairunnisa K, Venugopal V(2014) Targeting cysteine rich C1 domain of Scaffold protein Kinase Suppressor of Ras (KSR) with anthocyanidins and flavonoids – a binding affinity characterization study. Bioinformation. PubMed PMID: 25352726. Impact factor: 0.65
Dhananjayan K, Arunachalam S,et al. (2014) Molecular Docking Studies of Anthraquinone Derivatives on the Crystal Structure of Glycogen Synthase Kinase 3β. Elec J Biol, 10(1):14-20.
Kalathil K and Dhananjayan K (2014) Evaluation of in-vitro apoptosis induction, cytotoxic activity of Hymenodictyon excelsum (Roxb) Wall in Dalton's lymphoma ascites (DLA) and Lung fibroblast – Mouse L929 cell lines. J Appl Pharm Sci 4 (08): 011-017.
Dhananjayan K et al., Molecular docking studies and in vitro acetylcholinesterase inhibition by terpenoids and flavonoids. Asian J Research Chem 6(11):1011-1017.

Awards and recognition

Western Sydney university (WSU) Medical Sciences Research Group travel grant award 2017.
WSU Higher Degree Research completion scholarship 2017.
WSU International Post Graduate Research Award and Scholarship 2015.
First prize – poster presentation – ICMR sponsored national level seminar held in RVS College of Pharmacy, Coimbatore. Date: 17 & 18, Feb 2011. Topic – In silico docking studies and protective role of flavonoids, terpenoids against Acetyl cholinesterase.
College topper 2010 – 2nd rank – M.Pharm (Year 1).

Journal/ Book reviewer/ Course material

Publons ID: Karthik Dhananjayan

Cytotechnology (2015)
Tumor Biology (2016)
Journal of Applied Pharmaceutical Sciences (2018-2019)
Indian Journal of Natural Products Research (2015)
Journal of Food Biochemistry (2020)

Abroad Visits.

The visits includes – higher degree research study and attending conferences

Ms. Indhupriyasharshini M

M.Pharm

Lecturer

| | |
| --- | --- |
| Field of Specialization | Pharmacy Practice |
| Office Contact Details | PSG College of Pharmacy, Department of Pharmacy Practice, Peelamedu, Coimbatore – 641004. 0422-4345841 Ext: 5982 |
| Residential Address | No.16,Kuppusamy street, Pollachi |
| Email id | indhupriyampsg@gmail.com |
| Blood Group | 'O'+ve |
| | |

Participation in conference/ symposia/ training

Participated in international conference on 'New era of pharmacypractice: Beyond Traditional patient care' organized by Manipal Academy of higher education.(Jan2018)
Participated in a national level conference on convergence of technology on Phytopharmaceuticals and its importance conducted by PSG College of Pharmacy .(oct
2018)
Participated in a national level conference on convergence of technology on Phytopharmaceuticals and its importance conducted by PSG College of Pharmacy .(oct
2018)
Participated in national seminar on the future aspects of pharmacotherapeutic approaches in disease management conducted by PSG college of Pharmacy

Project details

SynthesisofAminooxazolederivativesandtestingtheiranti-bacterialactivity
d-ROMs test as a biomarker to determine the safety and efficacy of 2-(2-oxopyrrolidine-1-yl) butamide-Levetiracetam

Mrs. S. SARANYA

M.Pharm

Lecturer

| | |
| --- | --- |
| Field of Specialization | Pharmaceutical chemistry |
| Office Contact Details with Ph. No | PSG College of Pharmacy, Peelamedu, Coimbatore – 641004 , 0422 4345841(Office), Extn – 5840 |
| Residential address with Ph.No | NO: 12, Vinayagarkovilstreet,masakalipalayam, uppilipalayam post,Coimbatore-15 Mobile no:9884671501 |
| Email id | saranyamohana4@gmail.com |
| Blood Group | B+ve |
| Area of research | Development of new drug molecules for Cancer and TB. Drug discovery studies-Molecular docking,Drug design |

Participation in conference/ symposia/ training

Conferences

Participated in webinar on' current trends in natural products research and innovation" organized by swamy Vivekananda College of pharmacy, on 16.05.2020.
Attended webinar series entitled "Fighting against COVI-19:Therapeutic updates and role of pharmacists. Organized by Thanthai Rover College of pharmacy, perambalur on 14.05.2020.
Attended International webinar on" Management of Minor ailments in community pharmacy conducted by Excel College of pharmacy,Namakkal on 13th may 2020.
Presented e-poster on the "Docking, synthesis, characterization and biological evaluation of some novel benzimidazole derivatives as anti-bacterial agents" on National conference "QbD and Six sigma in pharma sector-Toolsperspectives and Challenges" at C.L.BaidMetha College of Pharmacy, Chennai on June 2019.
National conference on "Recent Trends in Industrial Pharmacognosy" at College of Pharmacy, Mother Theresa Post graduate and research institute of Health sciences, Puducherry on March 2019.
IQAC Sponsored seminar in Adhiparasakthicollege of pharmacy,melmaruvathur on june 2016.
National conference on Emerging and re-emerging viral outbreaks in India- clinical challenges and management at CSIR –IICT-CCMB auditorium Hyderabad on January 2015.
Workshop on Drug design and hands on training at College of Pharmacy, Madras Medical College, Chennai on February 2014.
Guest lecture series-2014 at College of Pharmacy, Madras Medical College, Chennai.
ISCR Sponsored Workshop on Fundamentals of drug development for pharmacology and pharmacy students College of Pharmacy, Madras Medical College, Chennai on august 2013.
Workshop on Drug design at College of Pharmacy, Madras Medical College, Chennai on February 2012.

Publication details

NagavalliDandapani , SaranyaSundaralingam, et al., Proteomic studies of chemical constituents of Commelinacommunis, Indo American journal of Pharmaceutical Research,2018:8(5)
NagavalliDandapani , SaranyaSundaralingam, et al., Proteomic studies of chemical constituents of Euphorbia Hirta, Indo American journal of Pharmaceutical Research,2018:8(3)
Jerardsuresh A ,Geetha Lakshmi, Saranya S, Surya PR., Design Synthesis Characterization and Biological Evaluation of some New Heterocyclic derivatives as anti-tubercular agents, American Journal of Pharmacy and Health Research, 2016, 4(4), 2321-3647

Patent details

Synthesis, charaterization and biological evaluation of novel substituted phenylamino benzene 1,2-diol derivatives as anti-tubercular agents

Reference number : e-2/4152/2014-che
Cbr number : 16016
Application number: 4217/che/2014

Design, Synthesis, characterization and biological evaluation of some noveloxadiazole derivatives as anti-tubercular agents.
Reference number : e-2/4152/2014-che
Cbr number : 4478
Application number : 1131/che/2015

Dr. V.E.Ida Christi

B.Sc., M.Pharm., Ph.D.

Professor & HOD

| | |
| --- | --- |
| Field of Specialization | Pharmacognosy |
| Office Contact Details | PSG college of pharmacy, Peelamedu,Coimbatore -641004 |
| Residential Address | 27A, Gandhi Nagar, Dhanalakshmi Nagar North, Uppilipalayam post, Coimbatore -15. |
| Email | 1969idacsha@gmail.com |
| Blood Group | 'O' Positive |
| Area of research | Phytochemistry, Herbal formulations development and Standardization. |

Publications details

V.E. Ida Christi, M. Khadar Bhatcha, K Suganthi, N. I.Blesson Sha Fogarty. Qualitative Pharmacognostical and Phytochemical Evaluation on Moringa oleifera Lam. Leaf, Acta Scientific Pharmaceutical Sciences :2021: 5 ( 6)
V.E. Ida Christi*, C. Krishnaprabha, N.I. Blesson Sha Fogarty , S.Sangilymuthu, D.Kumutha. Estimation of Heavy Metals in Selected Medicinal Herbs . International Journal of Research in Pharmaceutical Sciences . 2020:11( 3).
V.E. Ida Christi, M. Abinaya,T. Umapoorani, S. Mohan., Phytochemical Evaluation, Isolation and Quantification of Aminoacid From The Leaves of Sauropus androgynus Linn. BY HPTLC method. International Journal of Pharma and Bio Sciences.,2019, 10(4):55-63.
T. Umapoorani, V.E. Ida Christi, S. Mohan and M. Ganesan.,Pharmacognostical and Phytochemical Evaluation of Green Seaweed Ulva lactuca, World Journal of Pharmacy and Pharmaceutical Sciences., 2019, 8(7) 1272-1283
V.E. Ida Christi, Uma Poorani T, Nagarajaperumal G, Mohan S, Phytochemicals detection, Antioxidant and Antimicrobial activity study on berries of "Solanum torvum". Asian journal of Pharmaceutical and Clinical Research.2018 ; 11(11).
V.E. Ida Christi, Mohan S., Uma Poorani T., Swarna Kumari S. and Banupriya M "Comparative phytochemical study on some Cassia species". Asian Journal of Science and Technology; 2018; 09 ( 09):.8550-8556
G. Nagarajaperumal, V.E. Ida Christi, M. Karpakavalli and S. Mohan, In vitro and In vivo Evaluation of Potential Antidiabetic Efficacy On Cassia auriculata Flowers, Biomedical & Pharmacology Journal; 2018. 11(4), 2043-2050
V.E. Ida Christi, S. Mohan, Jobinkoshi, Jamsheed M.T., Ashik K. A. and Mohammed Shanoob, "Protective effect of ethanolic extract and fresh juice of Cassia auriculata linn. on the blood sugar of albino rats". World Journal of Pharmaceutical Research, 2017:6 (14).
V.E. Ida ChristiV. E. Ida Christi, S. Mohan, S. Swarna Kumari, T. K. Sreehari, R. Karthiyaraj, N. K.Franklin "Phytochemical, Antioxidant and Antimicrobial Study on Rind of the Fruit Extract of Punica granatum Linn.". Europian journal of pharmaceutical and medical research. 2017,4(8), 658-665
V.E. Ida Christi, R.Senthamarai, "Evaluation of invitro antioxidant activity on three customary drugs". .European Journal of Pharmaceutical and Medical Research.2016,3(4), 503-509
V.E. Ida Christi, Senthamarai "Qualitative and Quantitative Pharmacognostical studies on Scoparia dulcis Linn Leaf", International Journal of Pharmacy and Pharmaceutical Research: 2015 ; 3 (1): 57-74
Alli Malar Kodi S, Sudha T, V.E. Ida Christi and Karpakavalli M "In silico Predictions of Inhibitors of Novel Statin Structural Analogues with HMG-COA Reductase.Journal of Chemical and Pharmaceutical Research 2015,7(3), 942-50
V.E. Ida Christi, R.Senthamarai. "Comparative Analgesic and Anti-inflammatory activity study of three herbal medicines", American Journal of Pharm Tech Research, 2014,
(10), 1-10
V.E. Ida Christi*, R.Senthamarai, "A comparative study of antilithiatic effect of three customary plants and their antioxidant activity ", World Journal of Pharmaceutical Sciences 2014, 4(5),1290 -1299
V.E. Ida Christi, Study of Pharmacognostical, Anti-Inflammatory and Antioxidant Activity of "Saropus androgynus" Plant. International Journal of Advance in Pharmaceutical Research.2014, 5 (3);198 – 207
V.E. Ida Christi and Sathiya Meona "Comparitive in – vitro antioxidant study of three species from euphorbiaceae family", International journal of research in pharmacy and chemistry, 2013, 3(2), 228-234.
G.Nagaraja Perumal, M.Karpagavalli, V.E. Ida Christi, "Antibacterial study of the fractions obtained from the chloroform extract of Albizia chinensis" bark. International journal of pharmacology and biological sciences.2012
V.E. Ida Christi, G.NagarajaPerumal, M. Karpagavalli, AlliMalarkodi "Pharmacognostical, Physiochemical and antimicrobial study of Saropus androgynus". Herbal Tech Industry ,2011,8(02).

Dr.S.Lavanya

M.Pharm.,PhD.,

Professor

| | |
| --- | --- |
| Field of Specialization | Pharmacy Practice |
| Office Contact Details with Ph. No | PSG College of Pharmacy, Peelamedu, Coimbatore-4 |
| Residential address with Ph.No | PSG Staff quaters, PSG Hospital, Coimbatore 641004 |
| Email id | lavanya@psgpharma.ac.in |
| Blood Group | 'B' Positive |
| Area of research | Pharmacoepidemiology and Drug Safety |
| | Biomarkers in Clinical |
| | Development Post menopausal Health and cardiovascular diseases |

Mrs. J. Anudeepa

M.Pharm.,

Assistant Professor

| | |
| --- | --- |
| Field of Specialization | Pharmaceutical Chemistry |
| Office Contact Details | PSG college of pharmacy, Peelamedu,Coimbatore -641004 |
| Residential Address | 28,Sakthi Nagar, Nethajipuram (east), N.K Palayam (post) Coimbatore-641033 |
| Mobile Number | 9994916655 |
| Email | anudeepa@psgpharma.ac.in |
| | anudeeparagav@gmail.com |
| Blood Group | 'B' Positive |
| Area of research | Design and Synthesis of New Chemical entities for Nephrolithiasis / Renal Calculi , Synthesis of Novel Heterocyclic ring systems. |

Participation in conference/ symposia/ training

Attended Two Days Continuing Education Programme " Novel Technologies in Drug Discovery and Development at Senghundhar College of Pharmacy November 2019″
Participated in National Level Workshop on Molecular Docking & Drug Discovery Technology at Grace College of Pharmacy Sep 2019.
Attended National Seminar on "Prevention & Control of Emerging Vector Borne Infections Diseases at J.K.K. Nattaraja College of Pharmacy Jan 2019
Attended National Seminar on "Role of Phytoceuticals in Health Care" at Karpagam Academy of Higher Education Oct 2017.
Participated as Registration Committee Member in the International Drug Delivery Congress 2017 at RVS College of Pharmaceutical Sciences & RVS Padmavathi Ammal College of Pharmacy Jan 2017
Participated in National Seminar on "Nanobiomaterials" at Anna University Regional Campus, Coimbatore March 2016.
Presented a Poster in the Scientific Session at National Level Conference on Convergence of Technology in Phytopharmaceuticals and its importance in Trade and Entrepreneurship at PSG College of Pharmacy Nov 2016.
Participated in ICMR Sponsored National Seminar on "Advances in Traditional Drug Discovery & Clinical Drug Evaluation" at RVS College of Pharmaceutical Sciences, Feb 2011
Attended Indian Herbal Conference 2010 at Chennai Feb 2010
Attended the Training Program Conducted for the Promotion of Safe Injection Practices of Rajaji Hospital, Madurai, 2007 – 2008
Attended Quality Improvement Programme on "Approaches to Drug Development" Organized by JSS College of Pharmacy April 2007

Mr. Abin V Geevarghese

M.Pharm

Lecturer

Ms. Deepthi M

M.Pharm

Lecturer

Mr. Kalaivanan R

M.Pharm

Lecturer

| | |
| --- | --- |
| Field of Specialization | Pharmaceutics |
| Office Contact Details | PSG college of pharmacy, Peelamedu,Coimbatore -641004 |
| Residential Address | 2/994 A, Mahalakshmi nagar, palladam |
| Mobile Number | 6369103586 |
| Email | kalaivananraman02@gmail.com |
| Blood Group | 'A' Positive |
| Area of research | Nanotechnology and Personalized medicine |

Mrs. M.Sangeetha

M.Pharm

Assistant Professor

| | |
| --- | --- |
| Field of Specialization | Pharmaceutical Chemistry |
| Office Contact Details | PSG College of Pharmacy, Peelamedu, Coimbatore – 641004 , 0422 4345841(Office), Extn – 5840 |
| Residential Address | 253A,AnnaNagar,Dr.Ambethkar road,velandipalayam,coimbatore-641025 |
| Email | sangeetham@psgpharma.ac.in |
| | sangee264@gmail.com |
| Blood Group | 'B' Positive |
| Area of research | |

Mrs. Kiruthiga S

M.Pharm

Lecturer

| | |
| --- | --- |
| Field of Specialization | Pharmacology |
| Office Contact Details | PSG college of pharmacy, Peelamedu,Coimbatore -641004 |
| Residential Address | Janani illam ,No;28A,New Golden Nagar,Bharathiyar University post Coimbatore 46 |
| Mobile number | 9443750491 |
| Email | kirupharm@gmail.com |
| Blood Group | B positive |
| Area of research | Cancer research |

Participation in conference/ symposia/ Webinar/training

Attended one month FDP Program organized by Association of pharmaceutical teachers of india and modern college of pharmacy, Nigi, Pune