Principal Message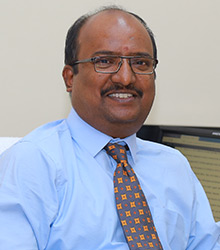 PSG College of Pharmacy is one of the premier institutions in the field of Pharmacy. It is established in the year 2001 and approved by AICTE, Pharmacy Council of India, New Delhi and affiliated to The Tamil Nadu Dr. M.G.R Medical University, Chennai is having state of art facilities to cater the need of pharmacy curriculum. Within 17 years of span, our institution has been ranked 31st among the pharmacy colleges in India. Our institution is also one of the institution got recognized as Industrial Scientific Research Organization by Ministry of Science & Technology, New Delhi.
With this milestone, we are able to attract research funds of Rs. 4.0 crores from various funding bodies. We are able to achieve this with dedicated faculty members and constant support of the management. Our students are doing well in industries, academics and both at National and International level. Our alumni association is much stronger.
I also take this opportunity to thank all the people who supported us either directly or indirectly in our growth.
Join with us to grow and to take pharmacy as career.
With Regards
Dr. M. Ramanathan,M.Pharm., Ph.D., D.Sc
Principal